Protest in Ottawa Brings Consensus
Against War in Iraq
By Koozma J. Tarasoff -- January 22, 2003

OTTAWA, CANADA -- On a very cold Saturday afternoon, January 18th, I participated in a peace demonstration in Ottawa as part of the International Day of Action Against War on Iraq. I was concerned with our troubling world situation, as were some 3000 protesters, young and old, who turned out, some with signs which said it all: "No Blood for Oil." "Drop Bush, not bombs." "War is terrorism." "Hate creates hate."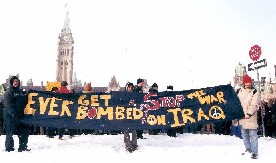 This was a peaceful and dignified protest with cheerful, but determined individuals seeking to persuade the public (and hopefully the Bush administration) that war is not the answer to the problems in the Middle East. As a Doukhobor, I shared the view that "war today is obsolete". My Russian ancestors were those who in 1895 burnt their firearms in a public demonstration to end the institution of militarism and war once and for all.
My sentiments were those carried by one peacemaker in a sign which read: "Swords into Ploughshares".

After rallying on Parliament Hill, I marched with the demonstrators to the U.S. Embassy where several hundred of us staged a "die in" on the street with a minute of silence to protest the U.S. trade sanctions against Iraq. Later the protestors marched to the National Defence Headquarters where they attempted to enter the building to hand senior defence officials with warrants for their arrest. But the building's glass doors were locked, with a couple of dozen military police standing guard on the other side. Later that day I learned that Canadians by the thousands marched in their home towns, joining millions of demonstrators around the world who believe war with Iraq would not only be a grave mistake, but would also be morally wrong.

[Click on Photo to ENLARGE]
Sign "Swords into Ploughshares" at peace rally in Ottawa, Ontario.
Photo C1315-11A by Koozma J. Tarasoff, January 18, 2003. All rights reserved.
Activists invoked the non-violent legacy of Martin Luther King Jr. on the U.S. holiday weekend that marks the civil rights leader's birthday.
It is a sign of the peace movement's revival when as many as 500,000 protesters rallied outside the Capitol in Washington, while in San Francisco tens of thousands of peace activists marched up Market Street to City Hall. With the Pentagon stepping up military preparations, including ordering more aircraft carriers to the Persian Gulf, thousands of demonstrators in cities from Moscow to London to Cairo called on the Bush administration to find a peaceful solution to the Iraq crisis.
On this international day of peace, my feeling is that we in Canada and elsewhere ought to resist the war culture that is prevalent amongst some "young bucks" who wish to use the Big Stick for power, oil, and economic gain. My inner view is that war is not inevitable. Given enough will, money,
and imagination, people can be trained to solve their problems nonviolently. As one columnist in the Ottawa Citizen wrote, "if you don't want war, say so". In other words, Stand up and be counted. Tell your Members of Parliament "No to war". If they do not support this wisdom of the ages, vote them out of office.
Koozma J. Tarasoff
882 Walkley Road
Ottawa, Ontario K1V 6R5 Canada
Phone/Fax: 613-737-5778
Email: tarasoff@spirit-wrestlers.com
Photo captions:
"Blood For Oil" sign on large balloon on Parliament Hill, Ottawa.
Photo C1315-3A by Koozma J. Tarasoff, January 18, 3003. All rights reserved.