by Peter Hoover, with Serguei V. Petrov

BENCHMARK PRESS
SHIPPENSBURG CHRISTIAN FELLOWSHIP
Shippensburg, Pennsylvania, 1999

This book is not copyrighted and no publisher shall do so. No rights are reserved. It may be reproduced for the cause of Christ. But before reprinting major portions or all of it, please contact the present publisher. The need for corrections or revisions may have become apparent.

Scripture taken from the HOLY BIBLE, NEW INTERNATIONAL VERSION. Copyright 1973, 1978, 1984 International Bible Society, unless included as part of translated quotes from original text. Used by permission of Zondervan Bible Publishers.

Paper back copies $10.25 (no credit cards, please.)

Contact:
Benchmark Press
1593 Pinola Road
Shippensburg, PA 17257

Phone: 717-530-8595
Fax: 717-532-4974
E-mail: benchmarkpress@juno.com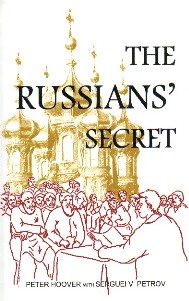 Cover illustration:
the line drawing of a Stundist meeting was drawn by Lana Martin.