Russian-Georgia Border Closure Impacts Armenia
On September 1, immediately after the Beslan school bombing, the Russian-Georgian border was closed at the Zemo Larsi (Upper Lars) checkpoint on grounds that Georgian and Azerbaijani territory is used by Chechen militants for planning and carrying out terrorist attacks against civilian targets across Russia.

Now all commerce and travel by road between Tiblisi and Vladikavkaz is stopped. Spiritual Christians in Armenia and Georgia are restricted from business and travel, except by air. Supplies are cut and prices will rise. The Georgian state budget has already lost over 4 million Lari as a result. This narrow road is as important to them as the Interstate-5 "Ridge Route", or "Grapevine" between Los Angeles and the Central Valley, is to California. See maps.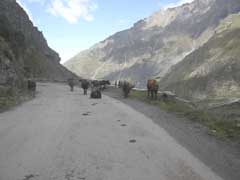 The border was closed without notice on September 1, trapping around 100 vehicles, mainly trucks, stuck at the Georgian side of Upper Lars and 1,500 at the Russian side. On September 12 Russia closed the seaways for Georgia and Armenia. ... On September 15 Russia issued an official order about the closure, and on September 20, the government of Armenia was officially notified.

20 percent of Armenia goods were transported on this Georgia Military highway through the Darial [Dariali] Gorge. See tourist photos: September 13: A Trip up the Georgian Military Highway

Meanwhile, Armenian and Azeri trucks are said to be using Georgia's breakaway South Ossetia region to cross into and from Russia, a part of the border that is reportedly open at Roki pass....some analysts believe that a new Georgian offensive is imminent.

The situation may easily turn into a humanitarian disaster if it keeps this pace. ...Drivers catch cold, they didn't take bath for a month, and there is no water and toilet. ... A bus heading for Krasnodar from Yerevan has been waiting at the Georgian side for 38 days. They are living in their vehicles and the nights are very cold. There is also a bread problem; people have spent all their money.

Also, the Armenian border to Turkey has been closed for years. ..Turkish-Georgian plans to build a railway connecting Turkish Kars with Akhalkalaki saying it would further aggravate the blockade imposed on Armenia. ... open borders would first of all benefit underdeveloped eastern regions of Turkey, while Armenia would get a transit route across Turkey to Middle East markets. ... Turkish-Armenian trade is estimated annually between $40 - $60 million and is mainly carried out through neighboring Georgia

These border closings have been in the Armenian news every day. Read the latest Armenian news at: ArmenianDiaspora.com, and more about the Larsi border problem.

---
Russo-Georgian Border Reopened

Most all Caucasus news sources reported the that after nearly a 2-month closure, the border between Georgia and Russia was re-opened on October 22. Full traffic is restored. The politicians assure that such a situation will not hinder commerce again.

---