EREVAN, ARMENIA — Four Jehovah's Witnesses engaged in alternative civil service instead of active military duty in the town of Sevan are on trial on charges of organized desertion. They refused to continue their service, claiming that it was supervised by the Ministry of Defense.

None of the 24 men who began their alternative civil service last year serves anymore. Twenty-two of them are Jehovah's Witnesses and one is a Dukhizhiznik

Molokan

Pavel Nik. Karabanov

(whose religious beliefs

*

, like the Jehovah's Witnesses, prohibit military service). One young man who originally took alternative service decided to pass on to military duty. [* Nearly all Molokane, Dukhizhizniki, and Subbotniki in Armenia have served their 2-year term in the military in the last 2 generations. The Karabanov's moved to Armenia from Azerbaidjan about 15 years ago, and

Pavel's father,

Nikolai, is much more outspoken than the locals.]



Criminal proceedings were opened against 21 from the group; 15 are in custody.

Armenia ratified the law on alternative labor service instead of military service in December 2003. It was part of the country's commitments to the Council of Europe. Before that, more than 150 Jehovah's Witnesses were sentenced to imprisonment for refusing to serve in the army.

After the law was adopted 22 Jehovah's Witnesses went into civil service as attendants in hospitals and boarding schools. But it turned out during the service that they were supervised by military police, which the men say violates their religious beliefs, by placing them under authority of military. Clothes and other items were issued to them by the Ministry of Defense by the order of Minister of Defense Sergh Sargsyan.

The four accused served in the Sevan mental hospital from December 2004 to 18 May, 2005. During that time they, and human rights activists, complained that they were being treated cruelly and were being punished for their position as "conscientious objectors".

On May 2, they submitted an application about their refusal to serve to the director of the hospital and refused to continue their work. They pointed out in their application that this service was of a military nature and that their conscience, which had been brought up on biblical principles, did not allow them to be engaged in military service. There was no reply to the application.

On May 18, they left the territory of the hospital. The accused testified in court that they had left the hospital because the director had driven them out, locked the door of the room and left them under the rain and in the cold and they had no choice but to leave the hospital. They have been kept under arrest since August.

Criminal proceedings were started against them on charges of desertion (punishable by up to four years of imprisonment), then the charges were extended to include organized desertion (4-10 years of imprisonment). The criminal case was first investigated by the Office of the Military Prosecutor and then by the Office of the Public Prosecutor.

Defendant Boris Melkumyan, 20, testified against the hospital's administration. He said that director Gagik Karapetyan twice violently slapped him in the face, forced him and others to clear ice using their bare hands and also periodically used them for his private business (making them haul furniture and construction materials).

The director testified that no such events had taken place. He complained that the young men did not work well.

A criminal case had been instituted against Melkumyan earlier for rejecting military service (up to 2 years of imprisonment). He said that after the law on the alternative service came into effect he mistakenly thought it had nothing to do with the army and agreed to serve.

He said that he had been assured in the military registration and enlistment office that the service would be only in civil, common working conditions and he would have an opportunity to participate in religious meetings together with his fellow believers. During the service they were prohibited from going out of the hospital and the regime of the service was determined from 7 a.m. to 11 p.m. without a rest-day. And the term of their service was to be 3.5 years (as opposed to the common two years of active duty).

British attorney Richard Daniel, himself a Jehovah's Witness, came to Armenia especially for the case and presented a 17-page petition for dismissing the criminal case. The judge turned down the petition twice, after which other defendants refused to testify.


---
Read the entire Armenian CO Law:

Armenian Molokane and Dukhizhizniki Get CO Status
(Posted on Molokan NEWS 2004 Feb 14)

2004 Jan 16 — Interfax — "Alternative Service Laws Passed in Armenia" — "Armenian President Robert Kocharian has signed laws ... alternative service that were earlier approved by parliament. ... The Law on Alternative Service gives Armenian citizens the right to choose between military and alternative service, if military service violates their religious or moral principles. In Armenia, mandatory military service lasts for 24 months, alternative military service for 36 months, and alternative civilian service for 42 months. The law will take effect on July 1, 2004."

Article 14.

Costs for arranging and performing alternative service are financed out of the state budget.

Article 16.2.

A citizen who performs alternative service takes an oath before the state flag of the republic of Armenia ...

Article 16.3.

Alternative service personnel wear a uniform ...

Article 22

. ... restrictions ...may not ... have, bear, and use arms.
This young man is from the Dukhizhizniki who use the Spirit & Life, not the Molokane as stated. He is Pavel Nik. Karabanov,
19 years-old (the 5th of 10 kids)
from Gavar
, Armenia
[also: Kyavar, formerly Kamo east of Ereven].
His family were
members of the

Grigori Grigorich sobranie

, also called

Bol'shoe sobranie

in Erevan, but not in good- standing now due to their Maksimist views.
See article in March 17, 2006

Armenia Now

:

Heaven and Earth

: Religious minorities find that conscience and duty continue to clash in dispute over alternative to military service, with photo and interviews of Pavel and his father, Nicolai.

Karabanov
is the first Jumper-Spirit & Life user to be arrested and jailed under the Armenia CO law (below). He has been in jail since the beginning of August for refusing to continue his alternate, or civil service as a conscientious objector. His family must provide food, and clean clothing and bedding for Pavel while he is in jail. They cannot afford a lawyer.

Pavel was a full-time live-in worker at a health complex in Erevan that housed elderly people, and physically and mentally disabled kids. He worked for 6 months and roomed with 7 other CO workers, all JWs. The 8 boys wrote a letter protesting changes in how their alternate service was being managed — (a) supervision by uniformed soldiers, (b) 80 workers would live in one dormitory, instead of 8, (c) they did not get paid as promised, and (d) they had to provide their own food. They then refused to
work hoping their petition would restore the conditions of their original alternate work agreement. Instead they were harassed and jailed.


Alternative civilian service is for 3-1/2 years compared to 2 years for regular military service. Most Armenian- Molokan and Dukhizhiznik boys enlist and agree to carry guns or not carry guns, then deal with the military as an enlisted soldier. Also, soldiers are paid and fed. After their 2 years are done, soldiers are listed in the "reserves" and can be called into "active duty" in case of a national emergency, for example. Though alternate service is much longer, 3-1/2 years, when done COs cannot be called back.


— This report from Pavel's father, Nikolai, who with son Sergei, is visiting and working with Dukhizhizniki in America. Nikolai returned to Armenia at the end of December 2005, while Sergei stayed longer in the US.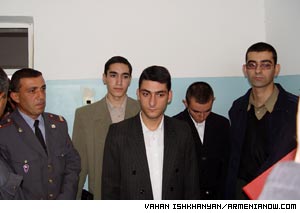 15 are in custody; four are on trial.

Karabanov is not shown in these photos.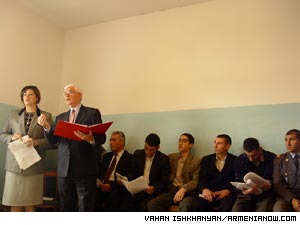 A British attorney came to Armenia to represent the Jehovah's Witnesses
---
The Office of Public Information of Jehovah's Witnesses (JW-Media.org) lists
8 news reports since 2001 about their CO trials in Armenia
. See all the Armenian JWs currently jailed in Imprisonment Reports.
---
Also see the Amnesty International reports on a 2001 JW case in Armenia:


Armenia: A positive step towards religious freedom
"...Armenia continues to arrest and convict young men for their conscientious objection to compulsory military service."



Compare to a case in Russia:


Pentecostal pacifist wins in court — Aug 2001
---
For much more detail about the progress of these JW trials in Armenia since 1999 and who was jailed, see the annual Armenia country reports posted at HRWF — Human Rights Without Frontiers International, Armenia

—

2000, 2001, 2002, 2003, 2004, 2005, 2006.