Deadly freeze keeps its grip on Russia, spreads to Europe
Associated Press

— Jan. 23, 2006

MOSCOW — The bitter cold seizing Russia retained its icy grip Monday and severe freezing temperatures spread westward into much of Europe.

More than 50 people have been reported killed by the cold wave in Russia, and scores of victims were recorded elsewhere in Europe over the weekend.

Amid growing demands on heating and electrical systems, many Russian communities suffered breakdowns. The national electricity grid ordered reduced industrial consumption in Moscow to ensure adequate power for homes and hospitals, as temperatures in the capital hovered around 4 degrees below zero.

The former Soviet republic of Georgia was among the most heavily affected areas of Europe, suffering not only temperatures as low as 22 below, but also struggling with inadequate gas supplies after explosions blamed on sabotage cut off shipments of Russian gas early Sunday. Georgia scrambled for alternative supplies from neighboring Azerbaijan, which began reaching the country late Sunday, but service remained spotty Monday.

Moscow's health directorate said 27 people had frozen to death in the capital since the cold wave hit last week. The Health Ministry could not be reached for a nationwide tally of cold deaths, but figures compiled from news reports show at least 53 people dying from the cold.

In neighboring Ukraine, 24 people died of the cold on Sunday alone, the country's Health Ministry said. Elsewhere in Europe, seven people were reported killed by the cold in Estonia, where temperatures plunged to minus 22; Germany, Romania and the Czech Republic each reported five dead , and three deaths were recorded in Moldova.

Nine Turkish Foreign Ministry employees died when the vehicle carrying them collided with a city bus in Ankara. Ten who survived the crash were being treated at hospitals in Ankara, the Foreign Ministry said.

At least 15 people were killed across Turkey and more than 150 injured Monday, the Anatolia news agency reported, as much of the country was pounded by bad winter. One person in Elazig in the country's east froze to death in a garden, the agency said.

Nearly 12,000 people were left without heat Monday in Podolsk, a town outside of Moscow, after a major hot-water pipe ruptured, a federal emergency official said. Most Russian towns and cities are heated through municipal heating systems using hot water.

In the Far Eastern Chita region, some residences have been without heat for five days. Heating interruptions also occurred in the Magadan area, where temperatures have hit minus-46, according to the ITAR-Tass news agency.

This winter is the coldest in Moscow since 1978-79, when temperatures reached minus 36.4.

The cold has severely strained Russia's crumbling infrastructure. Electricity use has surged to record levels as towns and cities struggle to keep indoor temperatures up, and Russians turn to supplemental heating sources including electric radiators.

The cutoff of gas to Georgia sparked an intense diplomatic row, with Georgian President Mikhail Saakashvili alleging that the cutoff was aimed at undermining the country's stability. The contention, echoed by Parliament Speaker Nino Burdzhanadze, underlined the long-brewing tensions between Georgia and its one-time imperial master. The Russian Foreign Ministry denounced the allegations as "hysteria."

Georgia simultaneously was coping with reduced electrical supplies from Russia, after a power line pylon was blown up Sunday.

In Poland, Economics Minister Piotr Wozniak said Monday that supplies of Russian gas had fallen amid the cold wave. He said the main Polish gas supplier, PGNiG, was reacting by cutting its output to several industrial clients, including chemical plants, but said that households for the time being would not feel the drop.

Romania also reported a reduction in gas from Russia and four large chemical companies were shut down to keep enough gas available for homes and businesses. Italy also was receiving less Russian gas, but was making up for the shortfall with its own reserves, Italy's oil and gas company Eni SpA said.

Russia's natural gas monopoly Gazprom has said it was delivering enough to fulfill European contracts and its deputy CEO Alexander Medvedev on Monday claimed Ukraine was taking more than its share from a pipeline that carries Russian gas to Europe across Ukraine.

Medvedev's comments on state television channel Rossiya echoed Russian allegations this month that Ukraine was siphoning off Europe-bound gas after Gazprom temporarily halted sales to Ukraine in a price dispute.

The national Russian electricity company, meanwhile, ordered restricted industrial consumption from 8 a.m. to 10:30 p.m., the RIA-Novosti news agency reported.

Millions in Georgia without heat

CNN

Correspondent Ryan Chilcote
— Tuesday, January 24, 2006

MOSCOW, Russia (CNN) — More than 4 million people in Georgia were without heat for a third straight day Tuesday after a series of blasts destroyed the Russian pipeline that supplied the country's natural gas needed for its central heating.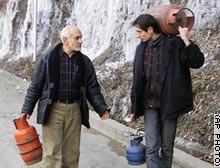 Two Georgian men carry gas cylinders in Tbilisi, Georgia, Tuesday.





[There are 5 Molokan congregations (churches) in Tbilisi.]



The crisis comes as the former Soviet republic battles the coldest weather it has seen in three decades.

Hopes were high that heating would be restored in the next couple of days, but a number of factors now appear to be complicating that effort.

While Russian officials repair the pipeline, Georgia was set to receive about half of what it needs from Russia through neighboring Azerbaijan.

But that supply has now been cut off after Russia reported a problem with a compressor unit, the head of the Georgian presidential administration, Georgy Averladze, told CNN.

Meanwhile, the repair work on the main pipeline has been postponed due to a technical problem, Russian officials said.

Averladzde said he believes Russia is intentionally withholding natural gas from Georgia to punish the Western-leaning country for its foreign policy.

"Things like this don't happen by accident," he said. "Just as things were getting back to normal, Russia's supply is cut again. Is that a coincidence?"

Earlier, Georgian President Mikhail Saakashvili accused Russia's secret service of sabotaging the pipelines.

The Kremlin calls those claims absurd and has warned Georgia that its rhetoric will only further worsen relations between the two countries.

On Tuesday, Georgia's energy minister said Iran had indicated it was prepared to export natural gas to his country.

"Iran has said it is willing to supply gas to Georgia," The Associated Press quoted Nika Gilauri as telling reporters after a quick trip to Iran.

Misery worsens as Georgians struggle to heat
Natural-gas shortage, power outages affect millions in European nation



Misha Dzhindzhikhashvili —

Associated Press

— Jan. 27, 2006

TBILISI, Georgia — Snow and freezing temperatures Thursday deepened the misery in Georgia, where millions were without power and a natural-gas shortage forced people to chop wood for heat.

With the Caucasus Mountain nation suffering its worst energy crisis in years, President Mikhail Saakashvili cut short his trip to the World Economic Forum in Switzerland to try to assuage anxiety that sent residents into long lines to fill kerosene canisters for portable heaters.

Some people brought jewelry and other valuables to pawn shops to scrape together enough money to buy heaters and kerosene, which sharply jumped in price.

Others could be seen cutting down trees and branches in the capital to burn in wood stoves.

"The situation is horrible," said Georgy Kiknadze, a 60-year-old taxi driver. "Prices for kerosene and firewood have soared, and we have to find a way out of the crisis. My fares also have increased. What can I do?"

The 1991 Soviet collapse followed by several years of civil war left much of Georgia's energy infrastructure decrepit and in desperate need of repair, forcing many to rely on generators and wood- and gas-fired heaters and stoves.

In recent years, the situation had stabilized with fewer outages. Saakashvili, who came to power in the 2003 Rose Revolution, had restored optimism for many Georgians.

Over the weekend, however, an explosion on a major gas pipeline that runs through the Russian border region of North Ossetia cut supplies to Georgia, forcing many to turn to electric heaters. Russian authorities blamed the blasts on saboteurs.

Fierce weather in western Georgia ruptured power lines from the Inguri hydroelectric station to eastern regions, leaving about 3 million people in the dark, Deputy Energy Minister Alexander Khetaguri said.

Then a gas-powered unit of a Tbilisi power station shut down because of malfunctions, leaving most of the capital's 1.5 millions residents to scrounge for other heating options as a heavy snow fell and daytime temperatures dropped to 17 degrees.

"The situation is very difficult, with neither gas nor electricity," said Tamara Beruchashvili, a 35-year old teacher. "Temperatures in school were so low that we had to let our pupils go home."

Kerosene prices have swiftly jumped 25 percent to $6 per gallon, a sizable sum in the ex-Soviet republic, where monthly salaries average $25.

Saakashvili has complained about the slow pace of repairs to the pipeline and hinted that Russia was deliberately stalling to punish the country and its pro-Western policies of recent years, suspicions shared by many Georgians.

"We are dealing with very dubious circumstances, with very bad follow-up, and basically telling an untruth with deception, cover-up operations afterward," he told Associated Press Television News before leaving the World Economic Forum in Davos, Switzerland.

"And I think the world should wake up to this threat because yesterday it was Ukraine, today it's much worse in Georgia. Tomorrow can be any other European country that's dependent on this irresponsible and unpredictable supplier," he said.