Bird Flu Threatens Russian Molokans and Jumpers / Maksimists
People fear fresh chicken, eggs — prices drop





From translated Russian news sources up to April 14, 2006.


Bird flu, or avian flu (

ptichii gripp

: «Птичий грипп») was first found in Georgia, Azerbaidzhan, South Russia and the Northern Caucasus — Kabardino- Balkaria, Chechnia, Daghestan, Kalmykii, Krasnodar, Stavropol' and Askrakhanka territories The last three provinces are home to most Molokans and Jumpers / Maksimists in Russia.

By March 22, bird flu was confirmed in 20 Russian regions. By March 21, in Azerbaidjan five kids died and the virus mutated into "dog flu, but by March 24 no human cases have been diagnosed in Russia yet. 7,665,572 birds vaccinated in South Russia.

Pravda, April 4: the government announced that chicken is safe to eat if cooked to 165 degrees Farenheit (74 Celsius).

Novosti, April 4: "...this year's major outbreak of bird flu in southern Russia had been contained, with only 10 out of 67 villages still under quarantine."

Itar-Tass, Apr 14: "Russia loses half of farm poultry because of bird flu..."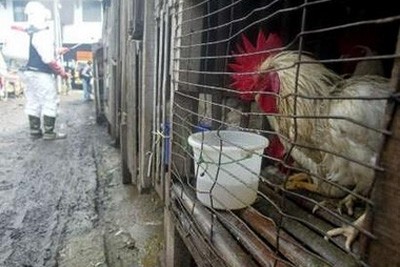 Turkish Weekly: "More than 1.3 million birds have died or been slaughtered in three outbreaks of bird flu since July 2005, or more than 44,000 every day, ... This includes more than 416,000 birds, or about 17,500 per day, that died from the virus. No human cases of bird flu have yet been reported in Russia."

RIA Novosti reports: "500,000 birds killed by bird flu in southern Russia in February

—

1,168,144 fowl slaughtered since bird flu hit southern Russia" On March 15 they reported: "In the last 24 hours, 19,799 chickens have died in Krasnodar Territory, bringing the total number of dead birds to 328,376," On March 16, "30,000 ... in 24 hours".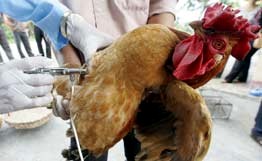 The first outbreak in Stavropol was discovered on 20 February 2006 (News RU) after about 76,000 hens died in adjacent (east) Daghestan. Since January 30, emergency preventive measures have been implemented at all 21 poultry plants in Stavropol' province (Federation News), including use of disinfectants, preventing cross-contamination (workers who raise poultry at home cannot work, and visitors are not allowed on farms), and vaccinating birds and workers.

On 1 March 2006, the Russian Virusological laboratory in Vladimir (north of Moscow) confirmed 3 regional outbreaks of bird flu in poultry being processed for consumption. The map shows locations of the infected poultry plants / factories: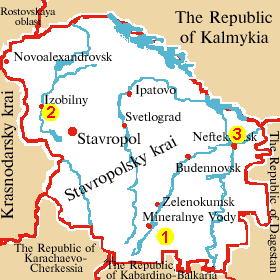 Narzan suburb (4 km SE of downtown Kislovodsk) — 10 private hens infected. Narzan is near 3 Molokan and Jumper congregations. Most moved from Kars, Turkey about 1962:

Kislovodsk

(Constant, presbyter Portnov)(5 Km),

Nezhenskii

(Spiritual-Jumper, presbyter Samarin)(7 km), and

Gorny

(kholkhoz Kislovodsk)(Spiritual-Jumper, presbyter Bakholden)(13 km). Some Maksimisty are mixed in with these congregations. Kislovodsk was founded by Constants from Rostov in the 1950s, who origianlly came from Kars in the 1920s. Another 7 congregations around Piatigorsk are within 35 km.
Izobil'nenskii region (40 km NNW of Stavropol') — 300 poultry infected on the Bogatyr' peasant farm. Two Constant congregations from Azerbaidjan are in the region: in the regional center

Izobil'nyi

, and nearby

Novotroitskiia

(presbyter Karabanov).
Azek[Ozek]-Suat village, Neftekumskii region 25 private hens infected. 35 km to the west are 9 Molokan and Jumper/Maksimist congregations all from Turkey in the 1960s:

Novokumskii

(large Constant, presbyter Samarin), and 8-9 in

Levokumskoe

(presbyters: Abakumov, Kavashnikov, Kochergin, Polunin, Samarin, and others).
In Stavropol' province (

krai

) there are about 50 congregations of Molokans and Jumpers / Maksimists, and Molokans live in nearly every city and town.

"Chicken is cheap now because Russians are afraid to buy fresh poultry in the markets or eggs not stamped 'inspected'," reports Evdokia Vakhlakova, a retired doctor and Molokan in Stavropol' province. "Dead crows are found in the parks." Before this news, chicken sold for about 45 roubles per kilogram, 80 cents a pound. Prices droped about 30%. Wages are about $150 to $200 per month. Pensions are $50 to $70 per month.

More than 2,000 hens died on a private farm in Nadezhda (12 km, 8 miles east of Stavropol') and were improperly buried (Free Radio). The infection spread but was not bird flu. The farmer was inexperienced (Rambler Mass Media). 42 residents have been inoculated against bird flu and another 43 have undergone medical examinations. No bird flu cases among humans have been reported in the village (Interfax). Nadezhada is home to 100s of Molokan and Jumper / Maksimist refugees from Armenia. In the late 1990s donations were collected by Paul Slevkoff, Wasco, California presbyter, to build the first Nadezhda prayer building.

Read reports in English from around the world at Bird Flu News Directory, Russia. Updates will be posted as soon as news is found and translated. If you have any news please send it in.