A hidden city under snow



A northeastern province of Turkey, Kars is all covered in snow. The historic and multicultural city, which has a border with Armenia, has many sites to visit and experience. Besides it's ancient caves, churches, memorial statues, Kars hosts one of the best ski runs in Turkey. One can also take a fun ride in a sledge on Lake Çıldır



Kars, a northeastern province of Turkey, shares a border and a collective history and culture with Armenia.

It is no surprise that the city is known for its snowy climate. Thanks to Kars' geography and high altitude, the snow badly influences life, especially in the villages. The first thing you feel about Kars if you are not familiar with thermometers descending into the minus degrees is the extreme weather. But as you start to walk on the streets, the friendly warmth of the people, the historical structure and the delicious meals, cheeses and honey make you forget the cold.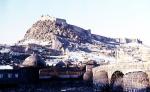 History is still alive in the city center, visible with Kars Castle sitting at the top of a rocky hill overlooking the surrounding land. The castle dates back to the Bagratid Armenian period with masonry surviving on its north side, but it probably took on its present form during the 13th century when Kars was ruled by the Zakarid dynasty.

While walking on the streets in Kars you can see stone buildings, no higher than double-deckers, which are remnants from the 40 years of Russian rule over Kars between 1878 and 1918. But there are none of the dead-end streets planned and built by the Russians said our guide Ferdi Tazegul. The former municipality building on Ataturk Street in Kars, also a remnant of Russian times, is being restored as a five star hotel. These buildings, with their gray stonewall architecture, still look magnificent.



Home to many dynasties: Ani



If one went to Kars or even neighboring cities it is a sine qua non to visit the remnants of Ani. Ani is a ruined and uninhabited medieval city-site beside the border with Armenia, which the Arpacay River draws naturally. It takes around an hour to reach Ani from Kars city center and it is better to have more than an hour for touring Ani since many churches and other historical relics are located there over a large area. The ruins of the city walls display how beautiful Ani used to be, and how giant. You can feel you are in a special place when you see the astonishing remnants of the many dynasties that have resided there.

Around the 5th century AD, Ani was a possession of the Armenian Kamsarakan dynasty, until it was incorporated into the territories of the Bagratuni dynasty, also Armenian. In 1045, after the capture of Ashot and with the rise of pro-Byzantine elements amongst its population, Ani surrendered to Byzantine control. Then Seljuk Turks, Georgians, Mongols, the Turkish Kara Koyunlu dynasty and Persian Safevids in turn ruled over Ani until it became part of the Ottoman Empire in 1579.

Ani is called the "City of 1001 Churches," and through time has stood on various trade routes. Its many religious places and fortifications were amongst the most technically and artistically advanced structures in the world.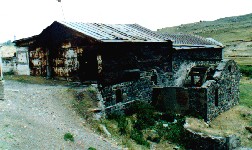 Kars has a multicultural population today as the city has been resided by many cultures and religions for years. The Karapapaks or Terekemes, a small ethnic group of Turkish speaking people often identified as a sub-ethnic group of Azeris, live there. They mostly moved to Anatolia after the Russian Empire's conquest of South Caucasus where they are called Karapapak in reference to the black hats they used to wear. There are also

Molokans

, Russian people living in northeastern Anatolia speaking both Russian and Turkish. They are known for being hardworking. "They practiced improved agriculture techniques in Anatolia and most millers in Kars are Spiritual Christians Molokans," said the Sarikamis Municipality Mayor Ilhan Ozbilen. [Photo: Molokan-built flour mill at city boundry.] Although most of them migrated away from Kars in the 1920s and in 1960s, there are some older

Molokans

still living in Kars. There are people of Azeri and Kurdish origin as well as Turkmen people. Ozbilen said Turkmen are known as Alevi, a Shi'a strand of Islam.

A catastrophic battle took place between the armies of the Ottoman Empire and the Russian Empire in and around the city during World War I where 40,000 to 90,000 soldiers died because of cold, hunger, exposure and typhus. Commander Enver Pasha led the army to Mount Allahuekber to attack the Russian army in Sarikamis in order to reoccupy the town lost to Russians in 1878. There are monuments and two statues built in the memory of the soldiers. Sarikamis Municipality Mayor Ilhan Ozbilen said many soldiers, mostly from the Black Sea region, died in Sarikamis, many of them at the age of 15.



Safe skiing opportunity in Sarikamis



Sarikamis has recently been gaining a reputation for its safe ski centers. One of the best ski runs in Turkey is in the Sarikamis district of Kars, an eastern Anatolia province. Although it is not as famous as Uludag ski centers in Bursa and Palandoken Mountains in Erzurum, Sarikamis has a beautiful, natural and safer ski center. It has 5 stage ski run choices for amateurs and professional skiers. There are yellow pines even at 3,500 altitudes in Sarikamis which opens a corridor for the ski run safe from the snowstorms and avalanches. I was fascinated with the scene of high yellow pines, the trees more than 50 years old, on both sides of the chair lift.

It was the first time in my life that I tried skiing and I was very excited and worried. The teacher wanted us to stand still and watch his moves; I fell down around three times. He had to stop the lesson to help me stand up. Can anyone learn to ski without learning to stand still on ones skis? I did it. I learnt to ski very quickly but the hard job was to learn how to stop. It was very easy to ski but you have to learn how to stop without losing your control. After two or three trials with the teacher I was free to ski by myself. It is the best sport I have ever experienced. The weather was still cold but I was sweating and smiling all the time.



Riding on sledges on the frozen lake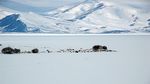 Cildir Lake, a district of Ardahan province, is an hour far from Kars center. Its surface is frozen from December until April. There are sledges carried by horses, which takes you to a short trio on the lake. It was the most entertaining part of my journey to Kars as I got in a sledge with 6 people sliding on Cildir Lake. Everything I could see was white the skyline was unrecognizable because of the whiteness of the sky and the snowy land. "The ice on the lake breaks into pieces all of a sudden in the middle of the April," said the driver of sledge, Coskun Yagantekin, 27. He said he had been working with horses for 20 years.

Visiting Cildir seems like fun but life here is very harsh, said Yagantekin, adding "we have to take our patients to the hospital with sledges when the railway is closed with the snow."

We wanted the drivers to take us far on the lake where fishermen fish through a small hole opened on the frozen lake just like Eskimos. "We fish carp bream, flathead mullet, mirror carp, yellow carp and black fish around 20 kilos in a week," said fisherman Cihangir Kilic. He said they sell one kilo for YTL 6 to mostly residents of Cildir. Some visitors bought these fresh and cheap fish to take their hometown on plane. The surface of the lake is frozen but the water underneath is warm: many different fish survive there. They make a living with fishing except the banned months between May 15 and Aug. 15.



Where to stay in Kars



There are two major hotels in Sarikamis namely Sarikamis Toprak Hotel with five stars and Camkar Hotel with three stars and a new hotel, Ce-Mar, to be opened soon. Toprak Hotel has warm and clean rooms where you can watch the snow and yellow pines through the balcony from your room. Cibiltepe Ski Center and chair lift is close to both hotels. They supply dress and other equipment for skiing. There are several hotels in Kars city center too.



How to go to Kars



Turkish airlines has non-stop flights from Ankara to Kars. There are flights, changing at Ankara, leaving from Istanbul, Antalya, Adana, Izmir, Bodrum and elsewhere. Sunexpress airlines has non-stop flights between Izmir and Kars on Monday, Wednesday and Saturday starting from YTL 29.

---