It was a day like any other, except that

Paul

Orloff

was doing something that he had never done before.

[Parents:

William John Orloff and Mary Ann Abram Aldacushion

.]



On May 1, the Fullerton resident packed water and coffee in his backpack, put on his sunglasses and cowboy hat, grabbed his homemade protest sign and headed to the civic center in Santa Ana to join the thousands who marched in support of immigrant rights.

[See the "Great American Boycott", right.]



Orloff, 43, had never before marched in a protest, but he had been motivated by the students who took to the streets in April.

His goal? "Just to be there in support of immigrants." He had no idea that his actions that day would lead to more.

Growing up in Huntington Park,

Orloff

says he never knew what racism was among his circle of friends. Cubans, Mexicans, Caucasians — they ate together, played together and studied together.

A third-generation Russian-American,

Orloff

says his family history is like that of so many others. His great-grandparents were part of a sectarian religious movement that broke away from the Russian Orthodox Church and because of religious persecution they fled Russia for the United States

[

Molokan / Jumper

]

.

His father, who owned a business making prefabricated wood supplies, employed Mexican immigrants, who became Orloff's friends.

"I made deliveries and worked the saws with them, so I never felt like I was above them. I worked withthem," says

Orloff

. "The company would not have lasted if it wasn't for them."

So on May 1, he knew marching was something he had to do, despite his worries that his presence might be unwelcome.

"I felt a little bit distant, like am I really supposed to be here, or was it just supposed to be for immigrants," he says.

He arrived that day at the offices of SEIU Local 1877 (the union representing janitors, grocery store cleaners and others), having spotted a newspaper listing that said the union members would be participating in the march.

The janitors, busy preparing their signs for the march, immediately noticed

Orloff

's sign, which said "Love Thy Neighbor" in Spanish and English on one side, and "Listen to all immigrants as they are America's Future" on the other.

One by one, they started relaying their experiences to

Orloff

— how they work seven days a week, how they clean bathrooms and offices, how they work at all hours of the night.

"They're not asking for a thanks, they're just asking to be able to do what they're doing," says

Orloff

. "There obviously has to be some sort of reform in the immigration system, but in my opinion America wouldn't work without the illegal immigrants, let alone just the immigrants."



Orloff

says he used to be one of those who stayed quiet when others bashed immigrants, but now he's begun challenging others because he's tired of hearing what he calls "non-truths."

So at the march, when activists asked him to go onstage with a sign, he gladly obliged. And when organizers asked him to make a speech to the crowd,

Orloff

decided he would take the chance despite his lifelong phobia of speaking in front of crowds.

"In my mind I said 'I'm here, I didn't even think I'd be here — me and my sign, so I think it was meant to be.'" says

Orloff

.

So nervous he was shaking,

Orloff

says he didn't know how to begin, but then he went up to the microphone and looked into the crowd.

"I thought, this is the real thing. I saw faces everywhere. I could hear the other groups still marching," says

Orloff

.

So he began with a simple "Buenos días amigos." The crowd roared and his confidence grew.

"Today I am not proud of our government, but instead I am proud of each and every one you here and throughout the nation and these rallies," he said in English through a Spanish interpreter. "Keep up what you're doing and someday when one of you becomes the president of the United States, then you will make me proud again."

As he left the stage, he was surrounded by well-wishers who hugged him, shook his hand and asked him to pose for photos with them.

Irene Martinez, program administrator for Strengthening Our Lives

*

, a nonprofit dedicated to empowering immigrant working communities and that also works with SEIU Local 1877, says the crowd connected with his immigrant roots.


[* SOL: Strengthening Our Lives Through Education, Community Action And Civic Participation Committee]



"He was really passionate about being there and I do remember people being really moved by his speech," says Martinez.

Though he had fumbled the words,

Orloff

says he never felt so welcomed and honored.

"At that point I felt like I'm no different than these people," says

Orloff

. "I felt I was meant to be there, to be not with them, but to be part of them."

By the end of the day,

Orloff

says his original goal had changed. He didn't just want to support immigrants, he wanted to get more involved.

"Rather than just think I did my part and let it go, I'd like to keep on it and do more," he says. "I want to go beyond that."

More about the
Great American Boycott
"A day without an immigrant"
On May Day 2006 (International Workers' Day) 10 million across the country demonstrated for immigrant rights.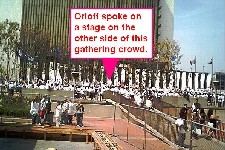 Click on photo to ENLARGE.

See more "
Photos of Santa Ana immigrant rights march (5/1/06)
" by Duane J. Roberts — A crowd of more than 10,000

[5000?]

people jammed the streets of downtown Santa Ana earlier this afternoon to demand full amnesty for undocumented workers and protest pending legislation going through Congress that would criminalize their presence within the United States.
---
Comment by e-mail from Orloff:
Paul Wm. Orloff
replied (6/8/2006):
... My reasons and beliefs that brought me to partake in this protest were solely mine, and have have no connection to any other Molokans' beliefs for/ or against protesting, and most importantly, is not affiliated with my or anyone else's beliefs in the war in Iraq or war in general. This experience was me, standing for my beliefs, in the immigration situation of our Country.
I do thank you for your encouragement and the additions you made! ...