Переведите к русскому языку

Southern California, October 28, 2007 — All Jumper- Maksimist churches (sobranie) in Southern California are safe. San Marcos prayer building (church) was closest to fires, but was not in the evacuation area.

Those living in north San Diego County — Escondido, Rancho Santa Fe, Romona (see #14 on map) — had to evacuate. 80% of all buildings destroyed were in San Diego County. Find map and addresses by zip code of destroyed buildings on this Interactive fire map.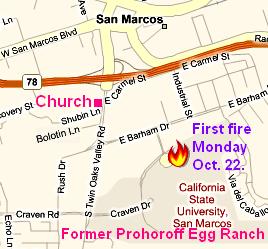 Unhealthy smoke and ash affect nearly all Jumpers, Maksimists and Molokans living in Los Angeles and San Diego Counties. Click on maps to enlarge. The sun and full moon this week were the color orange.

The first fire in San Marcos started on Monday October 22 at, or near, California State University San Marcos (formerly the Prohoroff Poultry Farm*) about 1/2 mile from the church. Many families of Molokan- Jumper descent from Mexico live near the church on Shubin Lane and Bolotin Lane.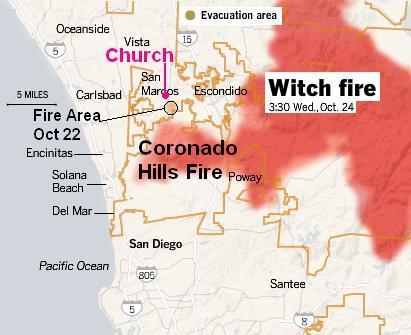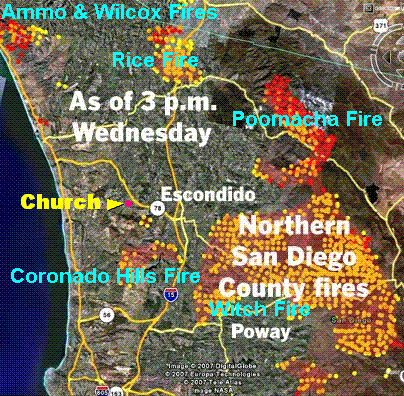 * At it's peak, the Prohoroff Poultry Farm had about 2 million chickens on 557 acres [0.87 sq. mile], laying 7 million eggs annually [1600 dozen/day], selling

11 million pounds of manure each month, and

was one of the largest egg ranches in the world. Terenty Prohoroff moved to San Marcos in 1924 from Arizona and started this business in 1945 with

250 chickens

. Terenty died in 1976. His sons John, Morris, and Jacob ran the farm. When the business failed they sold to 3 land developers, who sold 304 acres [55%] to the state to build a university

—

CSUSM founded in 1989. —

Poultry production profited plucky Prohoroffs

, by Vincent Nicholas Rossi,

San Diego Union-Tribune

. July 22, 2007.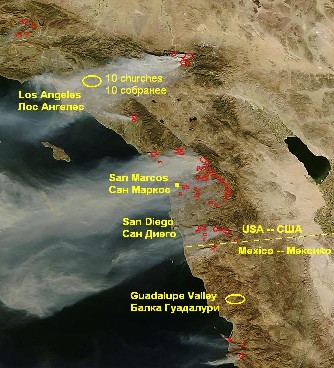 70% of American Jumper- Maksimist- Molokans live in the area shown in the aerial photo above and have to breathe the dirty air. A few homes of families of Molokan-Jumper descent may have been burned. These are most likely in the north San Diego County area. If anyone knows a family that lost their home, please report.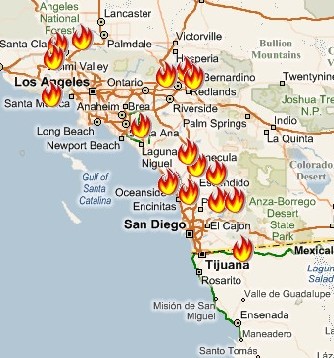 North San Diego County fires were Molokan-Jumpers may live:
Coronado Hills Fire (San Marcos)
Witch Fire (Rancho Santa Fe) *Biggest Fire
Rice Fire (Fallbrook)
Rosa Fire (Temcula)
October 28, 2007 news reports:

Homes, buisnesss destroyed: 1,800+
80% in San Diego County

Cost: $1 Billion+

Homes in danger: 68,000
People evacuated: ~ 1 million
Area burned: 765 square miles
Casualties: 14 dead; at least 50 injured (half the injured are fire fighters)
More news in Russian (по-русский).
Переведите к русскому языку