Posted September 9, 2007

— Last week, Azerbaijan Molokans were shocked as construction began through their cemetery. Graves were dug up and bodies removed and wrapped in plastic then moved with headstones to the side of a new roadway. Most family members, scattered throughout Russia after

perestoika,

are now required to come and claim them, or leave them to be either moved by the city or left in the ground and covered by new roads and houses.

---
September 4, 2007

— Katya Karagadayeva was the first to report the tragic news to Molokan.org:



"My mother, Antonina Fedorovna Kudelina, is from a Molokan family. She grew up in the 'Molokanka' district of Baku. Her parents (my grandparents), grandparents, aunts and uncles are buried in that cemetery. Today I spoke with my cousin, Roman Kudelin, who flew urgently from Moscow to Baku to save our family's graves. He was able to move three of five coffins. The rest are left there and will be destroyed. They could not move some of the headstones because they were 'too heavy'. From what I was told, everything is done by hand, without the use of tractors, or back hoes. If Roman didn't get there on time, we wouldn't have been able to save anything. Please, let me know if you have any more questions. I really appreciate you taking this interest in this matter. I realize that a cemetery in a central part of a large city is an inconvenience, I just hate the disrespectful way Baku administration chose to go about getting rid of it. Is there "



Sept 10, 2007

— Katya updated her report:


... He [Roman] saw graves as new as a month old that got destroyed. ... People are asking me where they can write to protest, if there's a petition they can sign. Do you have any thoughts about that?


Katya's relatives who conducted a funeral 2 weeks ago reported no harm to the Molokan section at that time. Last week, the new construction caught them off guard. She begs Molokans around the world to help move our graves to new locations. The city is helping somewhat by preparing new graves in several outlying cemeteries. One is in Gousan. See photos of Reburials below.

---
September 7, 2007

— the Counsulate General of the Republic of Azerbaijan in Los Angeles did not have any knowledge about destruction at the Molokan cemetery in Baku. One staff member, an attorney Consular in Legal Affairs named Elshan Baloghlanov, said he was scheduled to visit Baku on September 14 for a week. He will personally visit the cemetery and try to help. In the meantime he suggested that Molokans visit the Baku mayor with protests.



September 7, 2007

— By phone, Matrona Schetinkin, wife of the Senior Presbyter of the Union of Spiritual Christian Molokans (USCM), Timofei Vasiliech, said she had not heard any reports about the Baku Cemetery. Her family and congregation are from the Azerbaijan hills, and many have relatives in the city. The next day Matrona talked with a Molokan woman who just returned from Baku. Matrona cried as she reported that Molokan graves and headstones were dug up and moved out of the way of the road construction. She said Molokans in Baku knew about the first road, but the second was a surprise. Rumors are the city will build over the entire cemetery.

---
Sunday, September 9, 2007

— Announcements were made at a few Molokan churches, in Kochubeevskoe, Moscow, Los Angeles and Kerman; also the Cemetery Committee which represents 10 congregations near Los Angeles was notified. Baku Molokans have not yet reported an action plan or request for funds to help move hundreds of caskets and monuments.

Construction of one road ("Road 1", right map) along the west side of the cemetery was started in 2003. It was publicly announced in February 2003 against much protest. At that time only a 30 meters (less than 100 feet) along the west edge was to be taken for a road. The Administration of BakuPages.ru volunteered to help coordinate relocation of graves.


February 24, 2003

— PanARMENIAN.Net reported:



March 17, 2003

—

Caucasus Reporting Service reprints

April 24, 2003 — Felist.com reported:

Several stories appeared in

2006

, for and against the project. A posting on

HayLife.ru

states that the Armenian non-profit «Азат Гайк» [Azat Gait] will help.

Принято решение о переносе христианского кладбища в столице Азербайджана за государственный счет — 365.AZ, Jan 19, 2006
Machine translated: It was decided to move the Christian cemetery in the capital of Azerbaijan at state expense

"This is an Armenian cemetery, and it needs to be destroyed." —

RealAzer.com

, Jan 17, 2006
На месте христианского кладбища в Баку строят... коттеджи —

Russkaia Liniia [Russian Line]

, Feb 20, 2006
Machine translated: Houses are being built on a Christian cemetery in Baku
Another act of vandalism carried out by Azeris —

Public Radio of Armenia

, Feb 20, 2006

Mayor of Baku destroys old Christian (Molokan) cemetery — REGNUM News, Feb 20, 2006
Мэр Баку уничтожает старое христианское кладбище

По ком звонит колокол... —

Forum.HayLife.ru [Armenian Life forum]

, Mar 14, 2006 (Translated: For whom the bell tolls...)

Plan of construction of road crossing Armenian cemetery in Azerbaijan existed since Soviet times —

Arminfo

, Apr 18, 2006
---
July 18, 2007

— The Day.AZ/forum showed 12 photos taken with a cell phone were posted showing buildings constructed in the cemetery, damage to graves, and that Azeris are also buried there.

She reports: "I happened to photograph a trowel and shovel worker defecating directly on a pile of rubble. When I approached him he urgently began to wipe his ass and disappeared. I was only able to to photograph him from a distance." Then said they forbid her to take more photos.

She says the families were scammed for money. "When relatives of the deceased arrived the owner of the cemetery began to demand 300 manat [$352], but after a half-hour skirmish and calling somewhere he agreed on 60 manat [$70] for the workers."

You need to join the forum and search to see the posting.

[Click on photos to enlarge.]



Снос монтинского кладбища, ваше отношение к этому вопросу?
Translated: Destruction of the Montin Cemetery, your reaction to this question?

A new highway ("Road 2", map above right) through the Molokan section apparently was first announced in a short story by Day.AZ news on August 31, 2007:
A wave of protest followed from Azeris. Molokans began to call each other but few could do anything to save 1000+ Molokan graves, some 100+ years old. Over 90% of the younger Molokans who grew up in Baku fled to Russia. 70% of the graves have not been maintained for decades.

---
History

This cemetery, one of 90 in the Baku area, is the largest near the city center. It's very prime real estate located near Metro (subway) and train stations, 2 major stadiums, a hospital, university, hotels, and blocking major streets.

It's officially named the Montin cemetery, and/or the Narimanov cemetery. Montin and Narimanov are adjacent regions of Baku. Few Muslims are buried there, and the Azeri nationalists hate Armenians and Russians so the graves have little value to half of the Azeris. The other half are upset at the city mayor.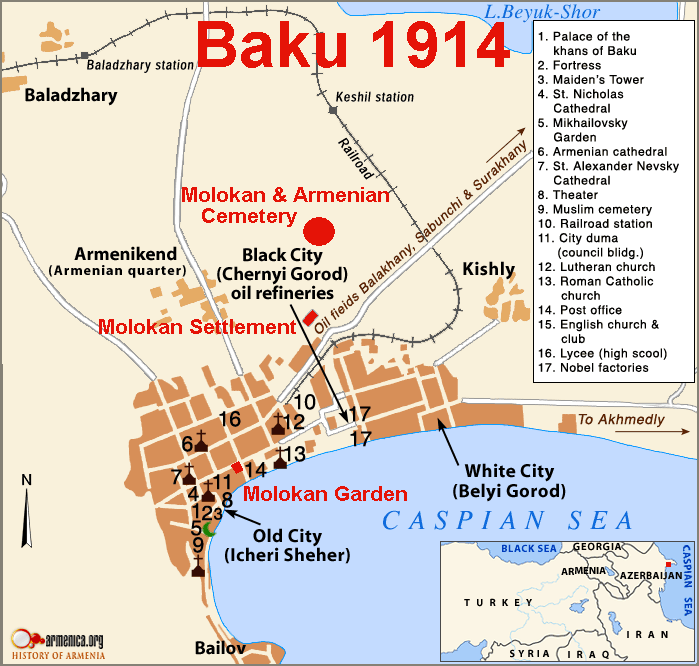 The Molokans may have founded this cemetery over 100 years ago, before 1890, and call it the Molokan cemetery. [Click on "Baku 1914" map]

Many Molokans first settled in Baku on a 2 acre lot on the east side where they kept horses and maintained a large market. The city took the Molokan settlement to build a park, since popularly called Molokan Garden. In exchange, Molokans were given about 10 acres just north of Baku along a major highway, near the train station and closer to the cemetery. There they built a new "Molokan Settlement", still called

Molokan Slobodka.

in

Zavokzalnaia

(near the train station) district.

Jews and Armenians were also given settlement areas outside Baku. Jews built their own cemeteries. Armenians added an Armenian section to the Molokan cemetery. During World War II a veteran section was added for Russian Orthodox soldiers. Azeri's often call it all the "Russian" or "Christian" cemetery, though some Muslims are also buried there. This Montin cemetery is large, covering 80 hectares — 198 acres, or 0.31 square miles. It is about one mile long and half a mile wide. In and around Baku there are about 90 cemeteries.

The cemetery was way out in the country and did not expand rectangular, and became irregularly bound as the city grew around it. Major roads from Baku were blocked by the cemetery, and were being planned during Soviet times to go through the cemetery.

The Baku Molokans cemetery occupies 40 to 50 acres, more than 8 times the area of the Jumper Molokan Cemetery in Los Angeles on Slauson Ave, City of Commerce, California. Burial plots in the US are smaller than 50 square feet (5' x 10'), often 24 sq. ft. (3' x 8') side-by-side. Old Eastern European family grave plots are much larger, 100 to 200 sq. ft., often enclosed with fences including a built-in bench and table for visitors, and flowered landscaping.



September 8, 2007

— Day.AZ.ru gives a progress report with new dis- information:
Reburials are in the second week. The most frequent question is: "Are they really building new houses at the cemetery?" New highways are needed by the city. The entire cemetery will be developed. Grave relocation will be done free of charge. All all questions should be addressed to Kiamran Mamedov, Director, Narimanov cemetery.

---
September 10, 2007

— Message #255 posted on the Day.AZ Forum by Buckingham shows 7 photos (right) of the Molokan section and gives his first-hand report about two families he met there:



[Translation] This afternoon I decided to go to the Montins cemetery. I have to say this — I saw a lot of horror in my life, but I never saw such a nightmare [as this].





The cemetery is smashed up in the center by a planned highway — a continuation of Inglab street [now "Hasan Aliev" street, the west end of "Road 2" through the Molokan section]. Graves are broken, thrown around, and turned over by a powerful excavator [back hoe tractor], which doesn't even spare the trees. Before my eyes a large granite head stone was deftly and easily lifted by the scoop, then after falling with a loud boom, it burst into pieces. Some parts are still preserved, but they will also get the same fate if the relatives of those who are buried there don't come. But there are only a few relatives who came. In 1.5 to 2 hours I saw only 2 families. I stood with them for a while.

The process of exhumation was a difficult spectacle to watch. I could hardly stand on my feet for the rest of the day. The relative of a deceased person (apparently a daughter) fainted. Her husband did not know whether to continue to instruct the workers, or to tend to her, or faint himself. Their adult son burst into tears. However, the workers were fairly quick — they rapidly opened the grave, dug out the rotten/moldy coffin, took out the terrible brown package which once was a person, then wrapped it in plastic, and put it into the car trunk and drove away.

There were no caskets. There's not enough of them, and there's not enough time to make them. Later I joined another family, who arrived at their grave site. I started a conversation with a short elderly gray-haired man. He had been moving relatives to Govsany cemetery for 2 days. The man was upset because he did not have enough time to get his distant relatives in another part of the cemetery — and their graves were leveled to the ground. He was also upset that there where no caskets, and he had to order caskets himself.

That's what's going on. The photographs are from the location of these events. These are the most innocent that I could photograph.

---
September 12, 2007

— Armenian News PanARMENIAN.Net exposes Baku government lies in 2 languages:
Under the pretext of building a highway Baku demolishes a Christian cemetery (the Nariman cemetery), where Armenians, Jews and Russians were buried.

Chief engineer of Civil Service Trust Firuz Askerov said "the hearsay that bulldozers have razed to the ground the graves at the Nariman cemetery is false." "They work to lay a way through the site of displaced graves," he said.

According to him, "134 graves have been replaced [transferred] from the Nariman cemetery to the

Govsany

* cemetery." Askerov said "besides Azeri graves there were also graves of Russians, Georgians, Tatars,

Molokans

, etc." (However, he failed to mention about Armenians). He emphasized that "only those graves which lie on the territory covered by the contraction plan will be replaced," APA reports.

Komsomolskaya Pravda newspaper reports that although local authorities assure of reinterment, photos in Internet show a complete dump. The photographers say the bulldozers just raze the graves to the ground depriving the relatives to rebury the remains.

The city administration says exhumation and reinterment is performed in accord with ethnic and religious traditions in the presence of relatives of the deceased. Meanwhile, the Jewish News Agency reports that "observance of Jewish traditions is restricted to the fact that grave-diggers throw the ashes into sacks and then give them to the relatives."

* Spelled many ways — Goussan, Govsan, Govsany, Gousan, Gousany, Hoevsan, Hφvsan, Hovsan — Govsany is a town about 12 miles west of Baku, along the coast.

---
September 12, 2007

— PanARMENIAN.Net
Russian Embassy in Baku receives numerous complaints about Christian cemetery demolition
"Every day the Russian Embassy in Azerbaijan received complaint about the decision of Baku authorities to replace the graves" with "a highway" ... cemetery director assures ... "No problems with the relatives of the deceased have emerged so far," ... photos in Internet show a complete dump. "...grave-diggers throw the ashes into sacks and then give them to the relatives."

Christian cemetery destruction can spoil Moscow-Baku relations
"The situation with the Nariman cemetery can have a negative influence on relations between our states," said Vasily Istratov, the Russian Ambassador to Azerbaijan. He said the Embassy received plenty of complaints about the issue

---
This web page is getting lots of attention:



1428 page views from September 10 through 14, 2007.
More than any other news posted on Molokane.org



Links to this web page:


Sept 11, 2007 — Baku Molokan Cemetery Destroyed!
Sept 13, 2007 — Stop Destruction of Christian Cemeteries in Azerbaijan
Sept 13, 2007 — Nariman Cemetery, Armeniapedia.org Many e-mails came in thanking us for collecting this report, commenting on this disaster, and asking how to help.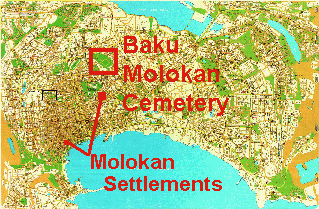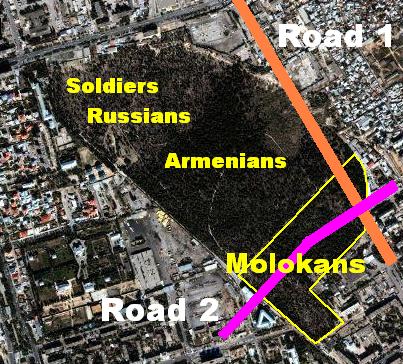 The "Christian" Cemetery is huge — 1 mile long, by a half mile wide — about 200 acres. Molokans occupy over 40 acres — 8 times the size of the Los Angeles cemetery on Slauson Ave. This cemetery was founded by Molokans and grew to accommodate other Christian faiths.
The location of "Road 2" was provided by Katya Karagadayeva.
---

10 photos posted May 8, 2007 on the DPNI.org web site showed extensive damage to soldiers graves

[Click on photos to enlarge]

:

Three of the above photos later appeared in a Real Estate in Russia [Недвижимость в России] web site on August 3, 2007.

---

On September 4, 2007 a 25 picture photo story was posted on Day.AZ which appears to be taken in the Molokan section:

---
The following 7 photos may show the path of "Road 2" through the Molokan cemetery on September 10, 2007

— from Message #255 posted on the Day.AZ Forum by Buckingham.
---
6 Ways to Protest
E-mail, write, phone

the Counsulate General of the Republic of Azerbaijan in Los Angeles:

Phone, write

the American Embassy in Baku, Azerbaijan

Write the Mayor of Baku:

Hajibala Abutalibov, BAKU, AZ 1001, 4 Istiqlaliyyat Street. Phone: 99412 492 6311


Write the President of Azerbaijan:

Ilham Aliyev

Write the director of the cemetery:

Kiamran Mamedov, Director, Narimanov Cemetery, Baku, Azerbaijan.

Post a message on Day.AZ Forum:

Снос монтинского кладбища, ваше отношение к этому вопросу? [Destruction of the Montin cemetery, your attitude to this question?] 340+ postings by Sept 2007.

---
September 14, 2007

— Roman Kudelin flew from Moscow to Baku to move his Molokan relatives out of the way of road construction. He only managed to save 3 of 5. He saw graves less than a month old destroyed.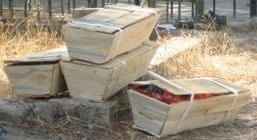 Kudelin photographed the area around his relatives graves including these small wooden boxes, about 3 feet long and 1 foot wide, used to transfer decomposed bodies from the cemetery. Most bodies are reported to be transported without boxes.

---
September 14, 2007 — VIDEO on YouTube.com in 2 languages "Christian and jewish cemeteries destroyed in Az." (3 min., 21 sec.) (English, Russian) — a slide show alternating photo stills with news text and religious music.

This the "Azerbaijani policy of destroying Armenian cultural monuments and any traces of Armenians." Armenians blame the Azeri government for deliberate destruction of non-Azeri cultural places. Posted on December 14, 2006, "The New Tears of Araxes," (5-minute film) shows 1000s of ancient Armenian headstones flattened to the ground by the Azerbaijani authorities in Djulfa or Julfa (Jugha in Armenian), Nakhichevan, at the Iranian-Azerbaijani border south of Erevan, some as old as 1,500 years

---
September 15, 2007

— Armenian Reporter
Baku's Armenian cemetery being destroyed
"...remains were shoved into plastic bags 'like garbage' and then handed to relatives who had to pay for the 'service.' "

---
September 17, 2007

— Mir-TV
В Баку перенесут 100-летнее христианское кладбище
A 100 year-old cemetery in Baky is removed

---
September 18, 2007

— Caucasus Conflict Portal
Yerevan. Vladimir Karapetian, a spokesman for RA foreign ministry, said Armenia condemns the destruction of a Christian (Narimanov) cemetery in Azerbaijan's capital city Baku by Azeri authorities. The cemetery had mainly Armenian and Russian graves, also of Georgians and Jews.

---
September 19, 2007

— Public Radio of Armenia
Armenia condemns destruction of Christian cemetery in Baku



September 19, 2007

— Yerevan.RU News
МИД Армении осуждает разрушение Наримановского кладбища в Баку
Armenian Foreign Ministry condemns the destruction of Narimanov cemetery in Baku ... "My father and mother, grandmother and many other ancestors are buried at the cemetery .... Apparently, vandals are looking for jewelry ..."

---
September 20, 25, 2007 — Caucasus Reporting Service posts in 2 languages:


October 9, 2007

— DeFacto Agency, Armenia
"RA Suggested that PACE Prepare Report on The Destruction of the Narimonov Cemetery in Azerbaijan"

---
January 1, 2008 — Trend NEWS, Azerbaijan
Christian Cemetery to be Moved from Baku through State Funds
Baku city mayor Hajibala Abutalibov headed a special commission he created at the end 2007. He announced that all graves in the Christian cemetery will be moved to build new highways. State funds will be used. Religious traditions with participation, if possible, of relatives of the buried will be observed. One part of the cemetery has already been moved. A special territory was allocated for the new cemetery in the Hovsan* settlement. Appeals submitted to the commission will be considered. The public will be timely informed of the work being carried out, full transparency is promised. [Few trust him.]
* Spelled many ways in English — Goussan, Govsan, Govsany, Gousan, Gousany, Hoevsan, Hφvsan, Hovsan — a town about 12 miles west of Baku, along the coast.

---
January 16, 2008

— Today.Az
Graves planned to be carried away from Narimanov district cemetery. Regular works on carrying graves away from the cemetery of the Narimanov district of Azerbaijani capital will start on January 25, 2008.