This first Molokan CD in Russian history was produced in preparation for the 200th anniversary of sectarian religious freedom in Russia — to be celebrated in 2005 at the Molokan Center, Kochubeevskoe, Stavropol, Russia. See your invitation. Also see the first Ukraine Molokan CD:

18 Molokan Songs by Elena Ivanovna Zvigintsevna, Chebassy, Ukraine

, 1999.
Recorded in 2000, and produced in 2003 with aid from a Swiss charity, this CD is

not available for sale in the US

. It is listed at several Internet-stores for 208 Roubles plus shipping,
about US$10.
We got this one with the help of relatives in Russia who ordered it to be sent to them, then they re-mailed it to us.

Scholars from Moscow recorded and arranged an hour of 10 religious songs sung by 9 elders (right). All verses but one are from the Bible, and half are Psalms. The shortest song is about 3.5 minutes, and the longest are over 9 minutes. The singers are refugees from north-central Azerbaidjian who settled in Kaz'minskoye, near the Molokan Center at Kochubeevskoe, about 27 miles south of the capital city of Stavropol. This CD comes with an attractive 12-page color booklet, with 7 photos. The cover below shows a traditional Molokan placement of the Bible on the table, covered by an embroidered towel. Embroidery borders the top of each page. See the complete booklet translated.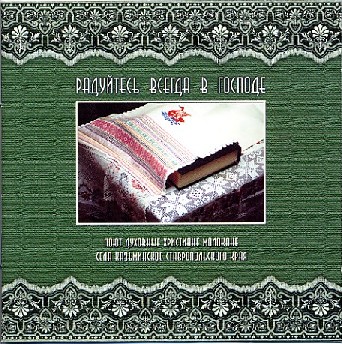 The songlist (below) is translated (with errors) inside the case.
You can download and hear samples of these 10 songs in MP3 or RealMedia format. If your computer cannot play these songs after you click on the link, you will need to download and install free software from RealMedia and/or MPEG.
The last 2 pages (below) of the booklet show this condensed English translation
(with errors)
of the Russian text:
[Pages 11-12:]
For the first time Molokans were mentioned in the 18th century in connection with severe prosecutions for their disobedience to the authorities and the Church. In 1805 they were granted freedom of worship, and they were allowed to settle down together in Taurian province near the river Molochnye Vody (Milky Waters) -- maybe from this the name originates. [Errors! The name Molokan comes from drinking milk during Orthodox fasts. And most Molokans were sent east to Siberia and the Far East. The ancestors of this CD were sent south. 25% of all Molokans ended up in the Caucasus.] However, mass exiles to the Caucasus began soon, but even there, in the severe conditions their enormous diligence and morality helped them to create exemplary cattle-breeding and agricultural facilities. Transcaucasia for a long time became a Molokan centre

*

, but in the late 20th century they had to move it to the Stavropol' region, and now those immigrants from the Sumgait region of Azerbaijan live in the village Kaz'minskoe, in the Kochubeevskoe area. [About 20 miles south of the city of Stavropol', the provincial capitol.] [*In 1905 there were large Molokan Centers in downtown Baku and Tiflis. In 1991 a new Russian Molokan organization was founded in Moscow by Ivan G. Aleksandrov. In 1993, T.V. Shchetinkin (from Khil'milli, Azerbaidjan) wanted it moved closer to the location of most of the Molokan refugees from the Caucasus. He complained to the Moscow authorities, siezed control of the organization and moved it to Kochubeevskoe, Stavropol'. Some Russian Molokan congregations have registered independantly.]
Performers:
Shchetinkin Timofei Vasilievich, born 1938 (Kochubeevskoe presbyter)
Mikhailov Ivan Fedorovich, born 1932 (Kaz'minskoe presbyter)
Polstianov Vladimir lvanovich, born 1936
Ivanov Ivan Timofeevich, born 1934
Gudnin Ivan Timofeevich, born 1928
Shchetinkin Timofei Ivanovich, born 1938 (narrator, reader)
Mikhailova Valentina Vasil'evna, born 1935
Gudnina Maria Pavlovna, born 1933
Ivanova Ekaternia Pavlovna, born 1933
---
The lead singer of the Kaz'minskoe community V.I. Polstianov had been long ago recognized as one of such strict teachers and examiners. In the present recording his voice is nearly always more audible than others' that allows one to appreciate his remarkable mastery and originality of the chant of the leading voice.
Before every chant except the first one, "the narrator"

[skazatel']

, reads the passage from the Bible; the words are distributed non-uniformly in the tune, semantic syllables may repeat with scoring and dialect pronouncing, and between them non-semantic syllables and vowels can be added, so the listener, who does not know the text, can hardly understand anything.
[
See songlist below.
These 10 songs are sung]

At the meetings which take place in the prayer-house on weekends and holidays (2, 3, 5, 10), and also on occasions of important events — weddings, christenings, funerals and
commemorations (6), seeing one off to the army, rebuilding of a house [house-warming], etc. The

presbyter

and respected people

[elders]

"are engaged in conversations"

[speeches =

besedy]

which takes turns

[alternating]

with chanting Psalms of the appropriate contents

[of the speech]**

(1.7,8). At the conclusion of the meeting everyone stands up for prayer (4) and then sing a psalm or a chant "for breakup" (9,10).
[You can download and hear samples of these 10 songs in MP3 or RealMedia format below.] [** Russian Molokans value interweaving their speeches and songs into a connected message. They call this "the golden thread" when it occures and consider it a spiritual blessing.]
In the chant system every psalm has its own tune originating from the folk tradition. However. Molokans believe that psalms were "granted from on high" to the chosen people capable to keep and hand down to the younger, these difficult musical pieces with their infinite melodies, which surprisingly exactly fit in crystallized musical forms. It is necessary to sing psalms permanently from one's early childhood to reach in a mature age a consummate skill, which would be approved by connoisseurs of the older generation.


We are grateful to the presbyter T.V. Shchetinkin for his help in preparing this first Molokan CD in Russian history, but especially for his selfless work of gathering and
rallying Molokans, keeping and strengthening the faith, and along with it the unique musical tradition.
— N.M. Savel'eva,
Candidate [Doctor] of fine arts,
and Senior Lecturer of the Moscow Conservatory
Recordings are made by N.M. Savel'eva in October 2000 with participation of N.U. Danchenkova and N.V. Menshich. Photos by I.G. Aleksandrov.
This project has been accomplished due to kind financial support from the
Swiss Agency for Development and Cooperation
.

Click here to see the booklet in Russian and English.
Songlist:

Listen to the first stanza in 2 formats: MP3 (click on "Title" below)

, or RealMedia

(click on the "RM" column below showing the time)

.

The original CD sound files are in Windows Media Audio (.wma, 44100 Hz) format which are converted to 2 common condensed formats for fast downloading: .MP3 (~90% compression), and .RM (~95% compression). Both formats are set at 16-bit, stereo, 22,050 Hz.. These RM files will download twice as fast as the MP3. The text for all songs is in the booklet. If your computer cannot play either of these formats after you click on the links, you will need to download this free software from: RealMedia, and/or MPEG.



[

Also see the first Molokan CD recorded in the Ukraine in 1999, Russian Molokan Church Service recorded in San Francisco in 1938

, and

5 Doukhobor songs, including one they learned from Molokans, hosted by the Canadian Museum of Civilization -- The Doukhobors: "Spirit Wrestlers".

Notice that these Caucasus-trained singers, like American Molokans, sing much more "drawn out" than the Ukraine style. By stretching their vowels, the drawn-out singing was designed to prevent people nearby, on the street, from understanding the words which would get the singers into legal trouble for sharing their faith with others, especially the Orthodox. Doukhobors also used this technique to camouflage their singing.]




* Nearly 1 hour total. ** This selection, not from the Bible, was printed in the booklet.