The huge blast was in front of the Capetown Cafe, on a main

Piatigorsk (Pyatigorsk) avenue across from the historic district and newpaper office, less than a block from the main post office, shopping mall, a large market, movie theater, offices, restaurants, new buildings, 2 colleges, a medical clinic, and the L.N. Tolstoy Park.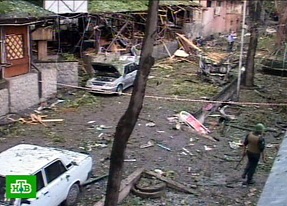 More photos.

30 to 33 were injured, ages 16 to 76, 7 in serious condition, none killed. Initially 3 were reported in critical condition. 4 were taken to Moscow for treatment. More may have been injured if it was not raining.

The most seriously injured is a 16 year old boy. On Wednesday, 23 remain in hospital, most with shrapnel wounds.

Victims will be compensated 50 to 100 thousand rubles each (~US$1,642 to $3,284) by the government, depending on severity of injury. Many say this amount is to little.

A taxi with a Chechen license plate carried the large bomb into a driveway next to the Capetown Cafe (кафе «Кейптаун»), in front of 37 Kirova avenue, between Krainii and Derzhinskii streets. The driver ran away.

The strong blast made a 6-foot (2-meter) deep hole in the street and damaged the Hermitage restaurant (ресторан "Эрмитаж", 56 Kirova) one block away.

The Capetown Cafe and adjacent cars were destroyed. Bomb fragments scattered up to 150 meters (492 feet). Buildings up to 200 meters (656 feet, one block) away were damaged.

Investigators reported that the mayor of Piatigorsk owned Cafe Capetown and he did not pay the local mafia for protection (крыша). The bombing was most likely retaliation for his non-payment than an act by terrorists.

About 30 minutes later a second bomb was reported nearby at a supermarket and diffused.

It was reported then denied that suspects were caught from information on surveillance video.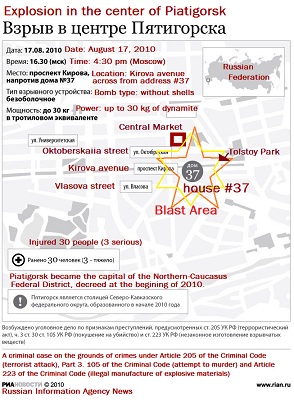 Russian Information Agency News map.

The taxi is registered in the town of Georgievsk, 24 miles east, were Molokans also live and had a sobranie. The taxi owner lived in Piatigorsk, but he disappeared the day before. His family believes he was abducted.

In the morning of the same day a suicide bomber killed 2 police and injured 2 more in North Ossetia, about 150 miles east. At first the two events were thought to be related.

Hundreds of related Molokans, Jumpers and S&L-users who live in the area use this narrow, tree-lined, main avenue. It was suspected that one Molokan girl may have been injured, but a personal inquiry by a presbyter found that she was not Molokan.

Many Molokans and Jumpers live less than 2 miles northwest of this bomb site, in Beshtau district. Most families are originally from Kars province when it was in Russia, then relocated in 1926 to Russia in Tselina District, Rostov province, then resettled to this suburb of Piatigorsk during Collectivization in the 1930s while others were resettled on nearby collective farms. Thousands more arrived after the wars in the Caucasus in the late 1980s.

Piatigorsk is the capital of the North-Caucasian federal district established by a presidential decree in January 2010. This mostly Russian district controls 6 mostly Muslims districts. Bombings are often interpreted as protests by zealots from the Muslim provinces who want political independence like other republics in the Caucasus and Central Asia.

Though police patols have increased, many people are not attending large free summer events in parks and plazas — concerts, festivals and fireworks.

Search for current news in English or in Russian.

---
On August 22, Olga reported to Administrator@Molokane.org:

Her family (husband Vasyl, son Timofiy 11, and mum Buchneva) bought a house in Alabama. They visited Pyatigorsk this Summer and returned two weeks ago.



It was so sad to hear about the terrorist attack. But my brother-in-law was about 500 meters [0.3 mile] from that area and he heard that bomb. We are so thankful that he is OK. But my heart is crying for that people who were injured. I was calling the hospital in Pyatigorsk (I took the phone # from Internet) and never get any answers.

I really would like to help Kirsanova Nastya somehow (I think she is a Molokan), if she needs any help. My mother and father both are Molokans from

Shemakha region, Azerbaijan

. Mother is from Chukhur-Yurt, father from Khilmilly [

Chuhuriurd, Khil'millli

]. I was born in Chukhur-Yurt also. I am very proud of my Molokan history and tell about Molokans here, in Alabama. I have a dream to visit some Molokan churches in the US. I would be glad to do something for our Molokan movement.

Thank you very much again for Molokane.org. I am checking it everyday!

——————
Iutsa has one Molokan and two Spriitual prayer houses. The three presbyters names and phone numbers were e-mailed to Olga to contact and report back to update this article.
——————
On August 28, Olga reported:



Subject: Kirsanova is NOT a molokan (message from Alabama)
Dear Andrey,
I just called to Yutsa - and find out that Kirsanova Nastya is not a molokan, she is a Pravoslavnaya (how she told). She was at her friend's house at that day and she was lightly wounded. She got some money from the government and it is looks like she does not need any help. One brother from Yutsa was very helpful - he went to her house and spoke with her. I am very thankful to him!!
Let God bless you


——————
Olga is related to Buchnoffs (Buchnev) on her mother's side and Kholodenins on her father's side.

---
Other Bombs in South Russia
2010 Aug 8 — Railroad track east of Piatigorsk damaged
2010 May — Stavropol theater, 5 killed, 20 injured
2007 Dec 9 — Nevinnomyssk bus station, bomb on bus, 2 killed, 4 injured
2007 Nov 22 — Nevinnomyssk, 5 killed, dozens injured
2004 May — Beslan School, 330 killed
2003 Sept 3 — Essentuki train, 4 killed, 79 injured
1997 April 26 — Piatigorsk train station, 2 killed, 12 injured

1996 August 17 — Piatigorsk main department store, powerful bomb defused
---