Members of Odd Brotherhood Make This City Their Home
Are Teachers of the Old Testament and Come From Far Away Russia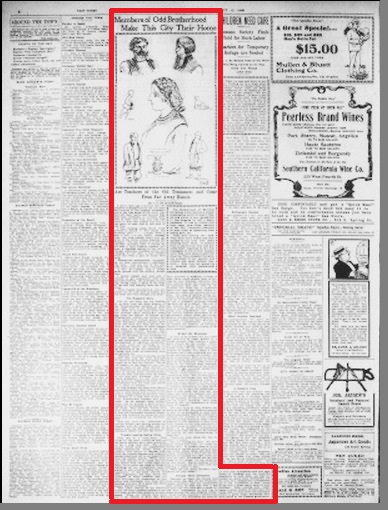 By C.P. de Blumenthal, a Russian immigrant in Los Angeles, who visited the first Spiritual Christian congregation to arrive in Los Angeles, sketched pictures of them, wrote and submitted this illustrated report for newspaper publication.

According to Berokoff (page 23 bottom) about 30 people came to New York about May 1904, but only 11 had money to get to Los Angeles — presbyter V.G. Pivovaroff (6), with his brother-in-law Ivan Ivanitch Rudametkin (1) and Mihail Rogoff (4). Someone in Los Angles undoubtedly helped Pivovaroff make arrangements with the Southern Pacific railroad to bring the ~20 "stranded in New York," who may have arrived in mid-July when this article about 6 families (not 3) was published.

In December de Blumenthal attended the first wedding of the Brotherhood of Spiritual Christans and signed as a witness on the Marriage License.

For several previous years, Verra, wife of Constanine de Blumenthal, was very active in woman's clubs promoting the sale of Russian lace to support sewing guilds in Russia, and planned to construct a Russian peasant log cabin (izba) along Ocean Ave, Santa Monica, to educate Americans about poverty in Russia. She probably offered a lot of aid to these immigrants.

Los Angeles Herald, July 17, 1904, page III-6

A short time ago I learned that six families of Russians from the Caucasus had arrived in Los Angeles, home seekers in the true sense of the word, who had left their native soil because they had been forbidden to worship their God in their own way, and who had come to find new homes and live to the glory of their God in this land of the free.


* * * * * * * * * * * * * * * * * * * * * * * * * * * * * * * * * *

The Brotherhood of Spiritual Christians (Братство духовных христиан : Bratstvo dukhovnikh khristian) is the name of a unique organization which thrives in Russia and which is now represented in Los Angeles by half a dozen members (adult males). It was by chance that they came here — these teachers of the Old Testament — teachers of such rules as abstaining from eating pork, etc.

They were looking for land. They have some means and they wanted to buy land and make America their home. A missive [message, letter] from a countryman who had preceded them happened to fall into possession of one of their number when they were about to start for America. They accepted the glowing account of our country and climate and came without hesitation. Now they are preparing to establish their brotherhood here.

* * * * * * * * * * * * * * * * * * * * * * * * * * * * * * * * * *

Notice the kosovorotka (peasant shirt, bottom right) extends to the man's knees, and the woman is wearing a necklace with her hair covering tied in back. This man's longer shirt and divided beard suggest he may be from a different village or congregation than the other 5 families. Women of the most zealous Spiritual Christians would more likely wear a head covering tied under the chin, and not have jewelry.

Neither Molokan nor Prygun labels appear in this article, nor do other specific Spiritual Christian faiths. These immigrants, led by V.G. Pivovaroff, identified themselves since arriving in May 1904 only as "the Brotherhood of Spiritual Christians" (Братство духовных христиан : Bratstvo dukhovnikh khristian). Pronounced: bratst'-vo du-khov'-nikh khris-ti'-an. This label suggests they knew that they were a mixture of different Spiritual Christian faiths.

I was walking along North Utah street avenue [north of 1st street] in search of their abode, not knowing their exact address, when I met a tall, stalwart, ruddy cheeked man; his long reddish beard and the style of his cotton blouse bespoke the Russian. The last doubt as to his nationality vanished when I noticed by his side a truly Russian peasant woman, a dignified matron in her native though somewhat modified attire, and clinging to her skirt a red cheeked little boy with a pair of sunny blue eyes.

"Zdrastruxy, zemlyatchok," [Zdravstvuy zemlyachok : здравствю землячок] (be greeted, my dear countryman,) I addressed the man. "Are you one of the men who have come from the Caucasus?"

"I am," he replied, and a bright smile spread over his healthy, honest face. I named myself and told him I wanted to get acquainted with him and his brothers. He stretched out his big, strong hand, a hand of the tiller of the soil, and heartily made me welcome.

"Well, Vassily Gavrilovitch* [Pivovarov], will you please tell me what part of Russia you are from and what brought you here?" [* Dukh-i-zhizniki pronounce this patronymic: Havrilovich]

The Russian's Story

"We all are — there are six families of us here — from the Kars district of the Transcaucasian territory of Russia, right close to the Turkish frontier. Most of us had come there with our families about twenty-five years ago from the district of Erivan [Erivan governorate] and Elizabethpol [Elizavetpol governorate], whither our fathers had been exiled* from various parts of interior European Russia because their faith was such that they did not believe in the adoration of saint images and many of the dogmas of the Russian orthodox church, because they were opposed to military service in the army as forbidden by the teachings of our Lord Jesus. We are all members of one brotherhood,** which we call the 'Brotherhood of Spiritual Christians' (Братство духовных христиан : Bratstvo dukhovnikh khristian). In many ways the teachings of our brotherhood follow the teachings of the Hebrews of the Old Testament, including such rules as abstaining from eating pork. etc.

* Spiritual Christians resettled to the Caucasus voluntarily and by force, according to Dr. N. Breyfogle, Ohio State University. See his Ph.D. thesis. Coming from 2 adjacent provinces indicates they are from different congregations.

** In 1905, waves of Spiritual Christians from up to 25 different villages and congregations from 5 different provinces began to arrive, and never maintain this "one brotherhood."

"However, we observe Sunday as the Lord's day, and the main principle we follow is the teaching of Christ, who taught us to love one another. We do not believe in the dogmatic and ceremonial part of the state church, in the mediation of the saints, and we believe in having direct communication with our God, and elect from the midst of our best and strongest men our elders — presbyters we call them — who lead us in our religious exercises, keep surveillance over our lives and advise us in times of trouble."

At this moment the front door opened and another rather short, heavy-set man with a curly beard and a thick crown of hair, clipped short on his neck, came in dressed in a wide blue blouse and wide, bloomer-like trousers and high boots. As he entered those present arose, and he uttered a short prayer, asking for the blessing of his God upon the house. Then the men, women and even children in the room stepped up to him and exchanged brotherly kisses. After this ceremony he joined our company and we continued our conversation.

"Did you have any difficulties in leaving Russia and getting across the frontier, and did you suffer any injustice from the Russian officials immediately before you left the land?"

Trouble Leaving Native Home

"Yes, that is a long story. The clergy of the state church as well as the police officials have been annoying us for a long, long time. The state church would send out missionaries. These missionaries would invite us publicly and openly to discuss with them the various dogmas and religious beliefs which had led to our separation from the mother church. When, then, the most learned of us would step out and openly with their hands upon the Bible, try to prove the truth of Christ's teachings as our brotherhood understands it, and actually defeat the representative of the state church by their arguments, the men would be harassed in every possible way in their everyday life, prosecuted by the police and eventually torn from their families and sent off to some still more distant district of Russia.

"The police officers of the district would use every possible pretext to extort from us the little property we possessed. When our fathers were sent out of the district of Kars they had been promised a sufficient acreage of land which would enable them to provide for their families. However, they only received about two acres per man of extremely poor soil. Two of our brothers had come out to California some time ago, and their letters induced us to leave our country and come here. The task of getting across European Russia and passing the frontier was not an easy one. Only one among us had a passport, procured through the kind aid of a friend. The rest of the families had to find some other way of crossing the frontier, risking arrest and punishment for leaving the country without permission of the government, which, under the circumstances, the government officials in the Caucasus would not have granted us under any consideration. A part of us crossed the frontier to Germany, thanks to the assistance of some of the local residents.

Bribed the Bluecoats

"A part of us crossed the line under the protection of night, guided by a Polish peasant, who received a handsome reward for his trouble. (There are actually a goodly number of men, mostly Jews, on the west European frontier of Russia, who make it their business, and a very profitable one, too. to get persons across the frontier who have no permits.) Most of us succeeded in crossing the boundary by bribing some of the bluecoats. (The police officers on the railroad lines, especially on the various frontiers of the empire, consist of the so-called "gendarmes,' wearing a blue uniform.) [French : gens d'armes : men with guns]

"Those bribes amounted to quite a considerable sum. But we were glad to get across that danger line, and directed our steps to Hamburg [Germany], where we took the ocean steamer to New York. Arriving in New York we went through a stringent examination on Ellis island. And one of us had the misfortune to have a sick child, his little girl was taken sick with the measles, and was detained on the island. She was taken to the hospital, of which he, however, did not know anything until later, since he did not understand a single word of English.

"For four days he was without any news of his child, and suffered agonies. A part of us succeeded in soon making arrangements with the railroads to continue our journey to Los Angeles, but not having abundant ready means, most of us were detained in New York, until, thanks to the kind assistance of a countryman of ours here in Los Angeles, P. A. Demens, arrangements were made with the Santa Fe railroad to provide for our transportation to this city."

P.A. Demens directed all non-Doukhobor Spiritual Christian immigrants form Russia directly to Los Angeles, so they would not end up in Canada as previously planned. He even met some groups at Ellis Island and in Canada, to escorted them to Los Angeles. Demens probably informed de Blumenthal about this first group.

"What are your plans for the future?" I asked.

"We are looking, for land. We have some means and want to make our homes here.* At present most of us are working at various places, some in [Demen's?] lumber yards, others doing odd jobs elsewhere. Personally, I have had the misfortune of hurting my right hand, and new my wife," he pointed out the mistress of the house, "is the supporter of this family. She is washing [beer?] bottles for a merchant not far from here and getting a dollar a day."

* His desire for permanent residence indicates that this first group were not Maksimisty, other faiths who came temporarily then returned to the vicinity of Mt. Ararat. Maksimisty tried to go home several times up to 1939. A return to "Ararat" was somewhat fulfilled when Dukh-i-zhiznik descendants of Makismity in America organized a trek (pakhod) to Ararat, Victoria, Australia, beginning in 1964.

"Why did you select Southern California for your home?"

Climate Here Attractive

"Because we knew the climate here was much like that of the Transcaucasian territory [with no snow at sea level], and our countrymen had written us that this was a fine country and one could earn a good living here, unmolested by any one in one's private life and religious belief." From further inquiries I learned that these men, who impressed me especially with their straightforward and open mode of thinking and the beautiful simplicity of their faith, not only intended settle here themselves, but in case of a satisfactory arrangement as to the acquisition of land* would bring over a great many more of their brothers. Their coming here might cause a great exodus of their sect and those akin to them from the Caucasus, where a great many sectarians have been exiled by the Russian government.

* Constantine P. de Blumenthal helped arrange, negotiate and sign the contract for communal land in Valle de Guadalupe, Baja California del Norte, Mexico, where Vasili G. Pivovaroff will move, live and be buried.

V. G. Pivovaroff was married to Annushka I. Rudomyotkin. He may have moved from Semyonovka, Erivan govenorate, where many Pivovaroffs lived, to Tiukma (Diukma), Kars oblast, then to the U.S. We know Pivovaroff's Tiukma congregation was in Mexico until January 1916 when he led 130 people (about 20 households) to Jerome Junction, central Arizona, where developers had invested in land, 2 dams and an irrigation system for farms to feed local miners and the city of Prescott. Pivovaroff's group signed a contract to farm 3000 acres (4.5 mi2) with a contingency to farm a total of 10,000 acres (15.6 mi2) to be inhabited by all who will follow from Mexico. When this Dzheromskiy colony failed to get irrigation water, most moved in 6 months, and most of the men sued the land developer. The majority resettled adjacent to 3 other colonies west of Glendale, Arizona. During the post WWI depression in the 1920s, many returned to Mexico, including Pivovaroff, and some went to California.


---