Erkan Karagöz is an attorney in eastern Turkey who grew up among Spiritual Christians near Kars and has been researching and writing about them for many years. See his blog: "The last Spiritual Christians Molokans in Turkey" (Türkiyedeki Son Malakanlar), and his new 2009 website.

Erkan has submitting some of his published work about Spiritual Christians in Turkey for posting here — in Turkish. More people, like Dmitri Bruhin in Fresno, are needed to help translate Turkish text.

Below are his answers to questions about his involvement in translating Semyonov's book: The History of Caucasian Spiritual Christians Molokans and Doukhobors, about a film in-progress, his opinions about Turkdoghan's research on Spiritual Christians, and other works. He refers to a news photo taken in 1921 and a recent photo of himself.

Some of Erkan's correspondence, contributions, and work is displayed here, edited for clarity.
E-mail 22 & 28 Mar 2006

1 historic and 4 current photos

Malakan Sorunu ve Çözümü [A Solution to the Molokan Problem]

Rus Kızı Vasilisa (2002) [book excerpts:

The Russian Girl Vasilisa

]

Karsın Solan Rengi: Malakanlar (2004) [Fading beliefs by the people of Kars about Spiritual Christians Molokans]

Unutulmuş bir tarihin yitik insanları (2004) [The Lost People of a Forgotten History]

Translated by Forrest McMunn



Malakanlar Kimlerdir? [Who are the Spiritual Christians Molokans?]
From: "Erkan Karagöz" <aequitas44@gmail.com>
Subject: Re: Spiritual Christians Molokans in Turkey
Date: Wed, 22 Mar 2006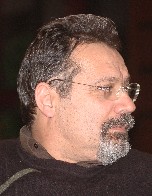 I was born in İncesu [north of Kars, formerly: Malaia- Voronstovka]. During my childhood it was a small village where Spiritual Christians Molokans lived. My father was a teacher there when I was born. I lived with Spiritual Christians Molokans and they influenced my life and the way I was brought up. Their hospitality, sincere behavior, down to earth relations and good neighborhood is still discussed among my family.

I am not a Spiritual Christian Molokan. My interest in Spiritual Christians Molokans was mainly in their sincere relations with the people of Kars, living together in peace, harmony and their great asset of teaching us agriculture, apart from the shared geography.

My combined background of specializing in social science, history, sociology and geography greatly helped me to investigate Spiritual Christians Molokans. I am an advocate (solicitor) [attorney, lawyer] by profession and now live in Istanbul.

Additionally, I have published many novels, worked on books about social history and I am also currently in the process of writing. In my novels there are some important parts about Spiritual Christians Molokans who lived in Kars and eventually were forced to go back to their native country [Russia].

In the second attachment I received from you there were write-ups [on the Internet] about my books and the first one was about Spiritual Christians Molokans.

I have a long write up about Spiritual Christians Molokans already published. The others include Spiritual Christians Molokans who lived in Kars area, the majority of whom were forced to leave the area in 1922; and consequently about their social difficulties and the unlawfull pressures put on them.

There are no other write ups about Spiritual Christians Molokans apart from the one written by O. Turkdogan, whose points of view I do not share nor agree. I would say there only my works about Spiritual Christians Molokans in Turkey, if you do not count Orhan Turkdoghan.

The book by Ivan Semyenov which is now being translated into Turkish under my supervision.

My ultimate goal is to introduce Spiritual Christians Molokans in Turkey to explain the way they lived in harmony with the locals, their warm approach and their positive additions to the society.

I am also working on a short film project with a friend of mine whose grandmother was a Prygun Molokan.

I sincerely believe that we as Turks, especially the people of Kars, are indebted and owe a great gratitude to Spiritual Christians Molokans in Turkey.

If you wish I can send you my works in Turkish and you can put them onto your website. As I do not know English, it would be impossible for me to translate them into English. The letters I am sending and communicating with you in English are currently translated into English by a friend of mine.

Should you also wish me to forward you some pictures I have in my possession, I can do so.

I look at your website and following it with an interest. I think it is well done. I also think it should be utilized more and more on wider spectrum.

Looking forward to hearing from you soon.

Best regards, Erkan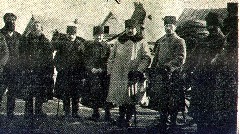 Chakmak village 1921

. Molokan elders greet Kazım Karabekir Pasha, center with light coat, a military hero during the Turkish War of Independence, then
president of the Grand National Assembly
. He signed the Treaty of Kars with the Soviet Union on October 23, 1921. Photo sent by
Turkish historian
Erkan Karagöz
. Click on photo to enlarge.
---

From: "Erkan Karagöz" <aequitas44@gmail.com>
Subject: Re: Spiritual Christians Molokans in Turkey
Date: Tue, 28 Mar 2006

Unfortunately, I do not speak or write in Russian. The book by Semyenov is being translated by professionals

[including a Molokan woman, Ludmila Denisenko].

During the process of its translation, I only oversee the theological terminolgies to check if they are being utilized in a correct manner and place. I should be very grateful, if you would kindly let me know the mistakes you spotted that he has made in his book. I would like these points to be attached at the back of the book before it is published as a reference.

The short film about Spiritual Christians Molokans will be a documentary one. It will be made by a friend of mine who will travel to Stravropol (His grandmother was a Prygun). At the same time I am also discussing the issue with a film director. I will be guiding them accordingly.

I sent you two pictures. Did you not receive them?

[He later sent more photos.]



I also sent you some of my works published in a magazine, newspaper and also a write up about Spiritual Christians Molokans who were forced to emigrate and also the problems they were faced in 1922 in Turkish.

Regarding the book by Orhan Turkdoghan who does not touch on the big exodus

[1960s to Stavropol']

, also their problems and the difficulties faced during 1922.

He also suggests that their biblical belief (or bible) was "The book of Sun" [Spirit and Life] and they believe in Maksim [Rudomyotkin]. He also suggests that there are some Spiritual Christians Molokans who were married to their daughters in Turkey!

Currently, I am also working on another paper and when it is finished I will be sending it to you. It is based on the ethics of law about the history of Spiritual Christians Molokans who refuse the military service according to their beliefs.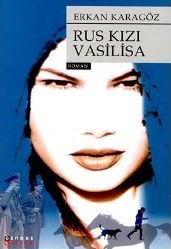 Additionaly, I will be sending to you a copy of a section of my book, in Turkish again, in which there is also a part about Spiritual Christians Molokans and their problems they faced during the compulsory emigration out of Turkey in 1922, called "The Russian Girl Vasilisa" [Rus Kızı Vasilisa], which described the Kars region between 1917-1960.

Best regards, Erkan