Kars Welcomes

Spiritual Christian Heritage Explorers

Books, videos, cultural center, museum, villages, cemetery, Russian house and more to see





2009 — Updated 2015 February 16


A welcoming program is planned for western Spiritual Christian heritage tourists visiting Kars, Turkey. Descendants traveling to visit villages of their ancestors will be escorted by local descendants striving to preserve their history and historical remnants of all Spiritual Christians from Russia who lived in the Kars area.

So far 3 Spiritual Christian heritage visitors have been hosted — 2 Doukhobor, 1 Dukh-i-zhiznik

In 2009 Sept 29, the first guests were Florence Chernoff-Lymburner, a Doukhobor artist from Washington state, and her husband. They were welcomed by Russian sectarian historian Vedat Akçayöz. Flo visited several historical sites, and photographed many Russian scenes and items to paint on canvas when she gets home. Her first report, without photos, appeared in Iskra (March 1, 2010, pages 14,15). More is posted on the Doukhobor Genealogy Website.


In 2011, a group of Doukhobors led by Ken Ken Harshenin — Fred and Eileen Kooznetsoff, siblings Walter Stoochnoff and Diane Stoochnoff-White, and sisters Rose Ann Hadikin-Bartley and Natalie Hadikin-Stewart. (Photo at bottom of Kars Doukhobor History Project Granted)

In 2013 May, Jerry Bogdanoff, a descendant of Dukh-i-zhizniki who moved to Western Australia from Southern California arrived in Kars. Using this web site, and relatives of Dukh-i-zhiznik immigrants in Australia, he planned a tour of the Caucasus (Georgia, Armenia, and Eastern Turkey). When he entered Vedat's office, he was surprised to see books by George Mohoff on the desk, and a video of me (Andrei Conovaloff) lecturing about Spiritual Christian history simultaneously translated into Turkish. Read more about Jerry's trip.


In 2013 July, Verna Posnikoff from Vancouver BC hiked up to the 1895 Burning of Arms site, visited several villages and the museum collection, took photos, and wrote her story: A Visit to the Doukhobor Villages Near Kars, Turkey, Iskra #070, Sept. 2014, pages 30-32.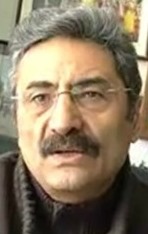 The new Kars Malakans* World Friendship Association with the Municipality of Kars is planning to provide heritage guests with tours of local villages, a Molokan home, a cemetery, old water-powered flour mills, the Kars cultural center, books, films and a museum and photo display. [* Malakan is the Turkish spelling of Molokan, and is mistakenly used as a general term for "all Spiritual Christians from Russia" and sometimes Old Ritualists in Turkey.]

Historian, photographer and film producer Vedat Akçayöz (right, pronounced:

Ahkt-chah-yez

) is directing the project. He is Chairman of the Old World Friendship Association of [Spiritual Christians] Molokans in Kars and President of the Kars Culture and Art Association.

Vedat writes in 2009:



My grandmother is [

Prygun

]

Molokan

. Her name is Anna. She died in 1944. For approximately 20 years, I have researched [Spiritual Christian]

Molokan and Doukhobor

culture and art.

My purpose is to preserve and present how the .. [Spiritual Christians from Russia] .. lived in Kars in the past, their culture, their history, their homes, their cemeteries and graves, their agriculture, and items of daily living — to save this before it disappears.

I want to open a small Russian sectarian museum in Kars, and I am trying to restore .. [Spiritual Christian vandalized]..

graves

. I have proposed to the Ministry of Culture a restoration of a

Molokan

house in the Çakmak [Chakmak] villlage [formerly

Blagodarnoe

, 4 miles northwest of Kars city].

I am working to carry out this project. When a tourist comes to Kars, we want to take them to the Çakmak village and visit a

Molokan

home, visit the cemetery, then back to the house. We will provide information about the history and culture of [Spiritual Christians from Russia]

Molokans and Doukhobors

, then they can return to their hotel.

I hope we can carry out this project. I also would very much like to visit Canada and the US to see Spiritual Christians villages there, to collect memoirs, photographs and produce more documentary films and books.


Vedat reports an impressive list of accomplishments regarding Spiritual Christians from Russia in Kars:








Vedat and mother visit relatives in Levo-
kumskoe, Stavropol' province, Russia, 2008

Photo exhibit poster

Documentary film won
award

Deli Deli Olma
movie poster

He founded the Old "Malakans World Friendship Association" [The name changed from the first announcement. The original term "Malakan" meant "all Spiritual Christians from Russia" and sometimes Old Ritualists.]
He and his mother visited Spiritual Christian relatives (Molokane, Pryguny and Dukh-i-zhizniki) who resettled from Kars to Stavropol'skii krai, USSR, in 1962.
He recorded memories and interviews in photos and video of Spiritual Christians from Russia in Armenia, Georgia and Russia.

In 2007 he visited the village Markovit in Armenia.
[Vedat first labeled this a Molokan village, then a Doukhobor village, but Doukhobors were not in Erevan Governate. Vedat may have been looking for Fioletovo and got misdirected to Margahovit 1 kilometer west, which neighboring Spiritual Christians call Hamgach'iman.]

In 2008 he visited the Doukhobor village Karelofka [Gorelovka] in the Republic of Georgia.
He presented his "Photo exhibit of [Spiritual Christians from Russia] Molokans and Doukhobors" in Kars and İstanbul
The same "Photo exhibit of [Spiritual Christians from Russia] Molokans and Doukhobors" was presented in Ankara [capital of Turkey] at the Joint United Nations Program and MDG-F 1792, supported by the Anotolia Alliances for Culture in Eastern Touriz. At the time he was not aware that the term "Molokan" as he used it included all Spiritual Christians from Russia.
He has done many documentary television programs about the culture of Spiritual Christians from Russia.
He was a technical consultant for the movie "Deli Deli Olma" about the last Molokan in Kars, and he played in the film. His role was a teacher at the music conservatory [school].
He has a book in production about Spiritual Christians from Russia who lived in Kars, Turkey.
In 2013 he got a government grant: Kars Doukhobor History Project Granted
Next Vedat wants to visit Spiritual Christians from Russia in the west. He wrote:



I would be very glad to show my photos, videos and books about Molokans and Doukhobors in the U.S. and Canada. My next book will be about "Doukhobors in Canada." If I can go to Canada I will be able to see the daily life of Doukhobors, their social environment, and listen to them tell memories of their fathers and grandmothers I am interested in their memories from 1921 to 2008.

If I could show my exhibit in Canada and the U.S., then I could collect information, recordings, photographs and videos for another exhibit to show in Turkey, Canada and the U.S.

We must cease this opportunity to work together intensely and quickly before the memory and knowledge of the culture of [Spiritual Christians from Russia] Doukhobor and Molokan in the Kars region is lost. We should enhance our dialogue.



Others have produced books about Spiritual Christians from Russia in Kars. The first was Dr. Turkdoghan who documented the remaining Spiritual Christians just before most moved to Russia in 1962. His thesis was published in 1971, and in the 1980s translated into English, edited and enhanced by the Highgate Road Social Science Research Station, but has not yet been published due to lack of support. His book was reissued in color in 2005. A few graduate students have recently done papers on Spiritual Christians in Turkey.

Türkdoğan, Orhan. "Malakanlar'in toplumsal yapisi. Kars ilinin üç köyünde bir Rus etnik grubunun sosyo-ekonomik araştirmasi (1877-1962)" ("Social structure of the Malakans*. Socio-economic research of the Russian ethnic group in the three villages of the Kars (1877-1962)") Erzurum: Ataturk Universitesi Basimevi, 1971 (*Malakan is a Turkish misnomer for all Spiritual Christians from Russia in Turkey, many ethnic groups, sometimes including Old Ritualists.)

Historian and attorney Erkan Karagöz has been very active in documenting Molokane in print and on the Internet. He produced three books in three years (above) which either feature or mention Molokane, and in 2009 translated Semionov's book, published in Russian in Armenia, to Turkish.

Many Spiritual Christians have been actively documenting and researching their own history in Turkey:

Stepan Agapov (Suat Boyar, Turkish name) in Kars, submitted many photos and corresponds in Turkish among those in the U.S.

Joyce Keosababian-Bivin, in Israel, is gathering the Armenian Jumper history.
Dmitri Bruhin born and raised in Kars. His family (mother, 2 sisters) moved to Fresno in the 1970s sponsored by presbyter John Kochergen. His 2000 trip back to Kars is documented in photos on Panoramia, Flickr and here.

Ludmila Denisenko, in west Turkey, published an article in

Social History Review

, July 2009; and a book about Russians in Turkey: Böyle Bir Kars, 2011.

Ivan Denisenko in Istanbul, Ludmila's brother, posts his photos on Facebook and really wants to publish a directory to connect the 1000 descendants scattered around Turkey.

Yalçın Inam in Istanbul, created a Facebook page which serves as a communication center with about 50 messages and 100 photos. Now offline.

Facebook : Malakanlar, 2013 with current photos.
Facebook : Malakanlar - The Molokans, 2011 with photos from other websites; Malakanlar 2009 with similar photos.

Jonathan Kalmakoff hosts the "Doukhobor Genealogy Website" with many articles, reference lists, and maps of Kars province Doukhobors, Jumpers and Molokans.
Koozma J.Tarasoff hosts the "The Spirit-Wrestlers" website listing his publications which have Doukhobor history in Kars, updated with online material.
Florence Lymburner, reported her trip to Kars and meeting with Vedat in 2009. Her first report, without photos, appeared in Iskra (March 1, 2010, pages 14-15). A different version with 13 color photos and a map is posted as Kars: A Journey of Discovery on the Doukhobor Genealogy Website.
Verna Postnikoff reported her July 2013 trip: A Visit to the Doukhobor Villages Near Kars, Turkey, July 2013, Iskra #2070, Sept. 2014, pages 30-32.
This is a lot of activity regarding Spiritual Christians from Russia in Turkey.

---